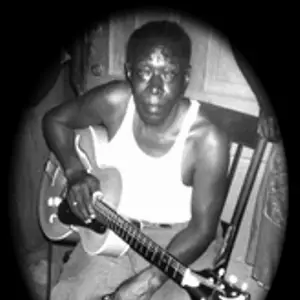 Harp player Will Shade was the central character in The Memphis Jug Band, which was one of the best selling recording acts of the late 20s.
Will was the leader and manager of the band, and his multi-instrumental talents meant he could invite a wide range of guests into his group.
Charlie Burse, Furry Lewis, Big Walter Horton, Memphis Minnie and Charlie McCoy all appeared with Will during the Jug Band craze.
This bouncy, good-time music had elements of jazz, ragtime, vaudeville tunes and Blues, all delivered with an infectious humour.
Will was born in Memphis in 1938, and learned guitar as a young man. When he was in Louisville KY in 1925, he saw The Dixieland Jug Blowers and decided to form a Jug band back in Memphis.
He recruited some players from around Beale Street and from playing on street-corners, they progressed to the clubs and bars of the booming cotton town.
Will was an accomplished singer and guitarist, but he is best known for blowing his harp in the style of the original country Blues players, and he was very influential on men like Rice Miller (Sonny Boy II), Big Walter 'Shakey' Horton and the young Charlie Musselwhite.
Will could also play mandolin, kazoo and 'bullfiddle'- a stand-up bass made from a garbage can and a broom handle. As the founder of the band, Will would book the gigs and invite whatever players he thought right for the occasion but, with such a wide spectrum of instruments to choose from, he would always find a place for himself!
This made him something of a mentor to young musicians, and he was able to chose from a lot of talented individuals up from the Delta.
Memphis Jug Band, with vocals by Memphis Minnie and Hattie Hart, give you their 'Cocaine Habit Blues';
In 1927, The Memphis Jug Band signed up with Victor records, and enjoyed many hits with tunes like, 'Beale Street Mess Around', 'Stealin' ', Linberg Hop', 'Cocaine Habit Blues' and 'He's In the Jailhouse Now'.
In addition to Will, the original line-up of the band was 'Lionhouse' on jug, Tee Wee Blackman on guitar, and Ben Romey on kazoo.
They would all sing, and Will would invite a dazzling roster of local musicians to join them to record some good-time party music.
When their contract with Victor ran out in 1935, with record sales slashed by the depression and the Jug Band craze long forgotten, they had cut over a hundred tracks and had dozens of hit records.
Will and Charlie Burse returned to playing for tips on Beale Street, and they continued there for more than twenty years.
Recommended Album
Only available as an MP3, Will Shade and Charlie Burse share the singing in this compilation of the Memphis Jug Band's good-time Blues.
Will and Charlie were playing in Memphis when musicologist Sam Charters discovered them in 1956, and they cut a record for Folkways soon afterwards.
As the Folk/Blues revival was getting into its stride, Will re-formed the Memphis Jug Band to play for the coffee house and University campus crowd, who must have been shocked at numbers like 'Dirty Dozens' with its raunchy 'hokum' lyrics.
The Jug Band kept going for a few years and in 1963, Will appeared as a guest on an album by Gus Cannon, who ran a rival band The Jug Stompers back in the Memphis heyday.
Sadly, Will's health was declining and he passed away in 1966 from pneumonia.
His grave in Memphis was recently honoured with a fine headstone, and he has a 'brass note' on the Memphis Walk of Fame.
Will and Charlie play 'Kansas City Blues' in a rare TV appearance;