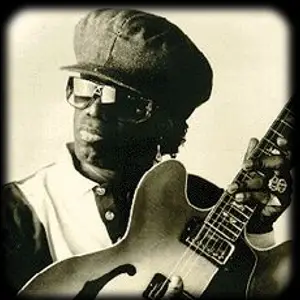 Johnny 'Guitar' Watson was a flamboyant Blues guitarist with a distinctive style, who was a major influence on West Coast Blues and beyond. Always a showman, Johnny moved seamlessly from early jump-blues to 60s Blues-rock, soul, funk and even rap, and his work is often sampled in hip-hop tunes. What was constant in this ever-changing spectrum of styles was Johnny's aggressive, distorted finger-style Blues guitar playing.
Born in Houston in 1935, John Watson Jr. grew up in the same district as his friends Albert Collins and Johnny Copeland, and as kids they all revered local men Clarence 'Gatemouth' Brown and especially T-Bone Walker who was making a big noise on the West Coast in the 40s.
When Johnny moved to LA with his mother in 1950, he was soon looking for work on the local scene, and he played piano in The Mellotones and guitar with
Amos Milburn
, among others. Fronting his own band as Young John Watson, he signed for the Federal label and had a hit with his 'Space Guitar' album in 1954, where his front-foot, distorted, feedback and reverb-heavy sound marked him out as a talented innovator. When he switched to the
Bihari
Bros. Modern label, it happened to co-incide with the release of the film 'Johnny Guitar', and Johnny was quick to adopt his new name and grab some publicity.
Space Guitar sounds like it was recorded on a distant planet!
[weaver_youtube http://youtu.be/5gJg7_FgVTI id=videoid sd=0 percent=100 ratio=0.5625 center=1 rel=1 https=0 privacy=0]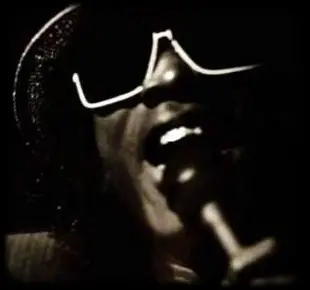 Dressed in flashy suits, with a long guitar lead on his Stratocaster and a bag full of stage tricks, Johnny adopted the persona of 'The Gangster of Love'. When he released a single of that name, it did not make the charts at the time, but it was a hit later when it became Johnny's signature tune. 'Those Lonely, Lonely Nights' did make the Billboard R&B Top Ten in 1955, and ' Cuttin' It' did even better in 1962. Johnny was a big influence on players like Guitar Slim, Jimi Hendrix, Stevie Ray Vaughan, Steve Miller (who referenced The Space Cowboy and The Gangster of Love) and Frank Zappa, whose 'mangle-it, strangle-it' style owes a lot to Johnny, and who had his idol as a guest on four Zappa albums. Johnny toured with Little Richard, Johnny Otis and his friend Larry Williams and appeared on many other people's albums.

Johnny takes lead vocals and unmistakable guitar break with Frank Zappa's band;
[weaver_youtube http://youtu.be/xWGG_irK_yk id=videoid sd=0 percent=100 ratio=0.5625 center=1 rel=1 https=0 privacy=0]
[stextbox id="custom" caption="Johnny Guitar Watson Discography" float="true" align="left" width="300″]The musical chameleon went through many changes of style, but his early recordings highlight a bold blues player who knew how to rock.
GANGSTER OF LOVE
[/stextbox]In the late 60s, 'Nobody' and 'Mercy, Mercy' both made the charts, and both were recorded with Larry Williams. The pair recorded and toured together for many years and their soul/funk records sold well, with 14 R&B hits and several singles making the Hot 100. The 'Ain't That a Bitch' album had the hit singles 'Superman Lover' and ' I Need It', and Johnny's 'Telephone Bill' is often cited as an early example of a rap record. When Larry was shot dead in 1980, Johnny's career stuttered as he came to terms with some personal problems, but after a few years away, he got back on the road again. Rapper 'Redman' sampled Johnny's work for 'Sooperman Luva', and Ice Cube, Dr.Dre, Snoop Dogg, Jay-Z and Mary J Blige have all used Johnny's riffs. Pearl Jam's 'Johnny Guitar' is a tribute that shows Johnny's influence is still felt in rock music today. Johnny died on-stage in Yokahama, Japan in 1996. Eyewitness reports say that, as he collapsed from a massive heart attack, his last words were, "Ain't That a Bitch!"