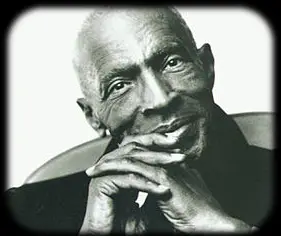 Charles Brown is another Texan who made it on the West Coast, this silky voiced pianist with The Three Blazers took 'Drifting Blues' to the top of the R&B charts in 1946. Going solo two years later, he had a series of Number 1 hits, with 'Trouble Blues' and 'Black Night' both staying at the top of the charts for over three months! When his smooth 'lounge blues' fell from favour as Rock'n'Roll stormed the charts, Charles spent a very, very long time in the shadows until his 1989 album, 'One More for the Road' caught the attention of Bonnie Raitt.
Bonnie invited him to open some of her shows, and a whole new generation of fans were amazed to find that mesmerising voice still working its magic. Further albums on the Bullseye label had Bonnie as a guest, and other tracks featured contributions from
Dr. John
and
Ruth Brown
. Charles spent the last ten years of his career putting out an album almost every year until he passed away from heart failure in 1999.