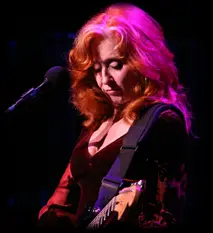 Bonnie Raitt embodies how far Blues music has come in a century. She is the opposite of a poor black man, yet her sensitive and soulful slide-playing speaks of bone-hard times and her warm, subtle approach to a vocal line shows the profound empathy that Blues music awakens in the human heart.
In 1949, Bonnie was born in LA to a father who had starred in many Broadway musicals and a mother who was a composer and pianist.

Unsurprisingly, Bonnie took up guitar at the age of eight so when she went to College in Massachusetts, she fitted right in to the folk/blues scene there. She was particularly enamoured of the slide-guitar playing of
Mississippi Fred McDowell
, and her work bears the hallmark of that lyrical style. Her association with manager
Dick Waterman
led to her playing with figures like
Howlin' Wolf
,
Sippie Wallace
and
Arthur 'Big Boy' Crudup
, as well as Fred McDowell himself.
Bonnie signed with Warner Bros. in 1971, releasing seven albums in nine years. Her blues-laced interpretations of folk, R&B and pop songs were critically acclaimed but not exactly big sellers, although in 1977 she had a breakthrough on the Billboard Hot 100 with a heavy R&B cover of Del Shannon's 'Runaway'. Around this time Bonnie, always politically aware, was part of the 'Sun-City' anti-apartheid project and she also played the No-Nukes Concerts at Madison Sq. Gardens. Shortly afterwards, she was a co-founder of Musicians United for Safe Energy (MUSE), an anti-nuclear campaign group. Bonnie has organised and played at countless benefits for good causes down the years.
In the early 80s, Bonnie was suffering problems with drugs and alcohol and soon after the release of her 'Green Light' album in 1982, she was dropped by Warners. Bonnie's response was to produce and play on an album by one of her early influences, Sippie Wallace, which won a Handy Award. In 1988, Bonnie co-founded the Rhythm and Blues Foundation to help support, recognise and get royalty payments for the originators of the Blues, who had got so little return for their talents back in the day.
Bonnie plays a Benefit gig with John Hyatt;
It took a while to get straight, but when Bonnie signed for Capitol Records in 1989, it provided the impetus to break through to worldwide commercial success and a string of four platinum albums. She won four Grammys in 1990; three for her 'Nick of Time' album and one for her duet with John Lee Hooker on his album 'The Healer'. By now Bonnie's song-writing was beginning to match the consistently high standards of her singing and playing, and five tracks on her chart topping album 'Longing in Their Hearts' were self-penned. In 1994, through the Mt. Zion Foundation, Bonnie arranged for headstones to be placed on the graves of Mississippi Fred McDowell, Memphis Minnie, Sam Chatmon and Tommy Johnson.
Bonnie plays some fine Blues with Keb Mo';
In the new century Bonnie has released two albums, 'Silver Lining' and 'Souls Alike' which made the Billboard Top 20 Album charts, and she collaborated on projects with
Ray Charles
, Alison Krauss,
Keb Mo'
and Norah Jones. She took a seven year break from the studio while dealing with family issues, but in 2012 returned with a new album, 'Slipstream' on her own Redwing label.