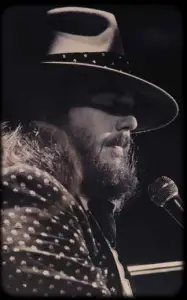 Dr. John is the living embodiment of New Orleans. Talented, scary, steeped in tradition, no stranger to drugs and violence, but always entertaining; Dr. John is also the character adopted by Mac Rebennack when it's Showtime! With roots deep in jazz and R&B, with costumes and voodoo imagery coupled with that distinctive growl and piano riffing, this man is as much a part of the Crescent City as gumbo.
Mac was born in the 3rd Ward in 1940, surrounded by music. John Malcolm Rebennack's father ran a record store and also fixed PA systems, so his son was keen to lend a hand, especially if it meant going to clubs where he might see local stars like Roy Byrd (Professor Longhair).

By the mid-50s Mac was hanging out at
Cosimo Matassa
's J&M recording studio, across from '
Congo Square
' picking up session work on guitar and piano and appearing on tracks by Joe Tex,
James Booker
and Professor Longhair, who proved something of an inspiration. Ace records began to employ him as a songwriter and he also worked as an A&R man for several small labels, forming a working friendship with
Allen Toussaint
. In 1960, Mac was trying to calm a bar brawl when a pistol shot took off the end of his left ring finger. This stopped him playing guitar, so he took up bass, but the real consequence was that Mac focussed on playing piano. Involvement with drugs and schemes to buy drugs led to conflict with the Law and eventually some jail-time. When Mac got out of prison he headed for the
West Coast
.
'Walk on Gilded Splinters' is Voodoo Blues from Dr. John's first album;
Working as a session musician in LA, especially for Phil Spector, Mac created the persona of a psychedelic voodoo mystic called 'Dr. John Creaux, The Night Tripper'. The first Dr. John album, 'Gris Gris' in 1968, mixed jazzy R&B tunes with Blues growling, weird chanting, floating wind instruments and Dr. John's trademark use of Afro-cuban rhythms. This intoxicating brew was repeated on three more albums with some funk thrown in. The next record, 'Gumbo' in 1972 was full of New Orleans R&B standards and yielded a Billboard Top 40 hit with 'Iko, Iko'. Dr. John had made it to the world stage, touring constantly and selling tons of records. After the ill-fated 'Triumvirate' project with Paul Butterfield and John Hammond Jr., 1973 brought the definitive Dr. John album, 'In the Right Place'; produced by Allen Toussaint and backed by The Meters, it featured the hit singles 'Right Time, Wrong Place' and the timeless 'Such a Night'. 'Desitively Bonnaroo' repeated the formula the following year.
Dr. John began a long, productive song-writing partnership with Doc Pomus. Further albums pursued jazz, funk and R&B, and he guested on dozens of albums, including Professor Longhair's final work, 'Crawfish Fiesta'. Two volumes of solo piano tracks cut around 1980 showed a musician in total command of the funky, swampy R&B of his home town and after a decade struggling to free himself from addiction, Dr. John won the first of his five Grammys in 1989 for 'Makin' Whoopee'. Moving his base to New York, he explored the jazz trio form with Art Blakey and David Newman on two 'Bluesiana' albums, then put out his funkiest album 'Television'. By now, Dr. John was approaching the status of 'National Treasure' and he was in great demand as a guest pianist, made several cameo TV appearances, played in 'Blues Brothers 2000' and collaborated with Lou Reed and Spiritualised.
Dr. John and Jools Holland perform a boogie duet;
The Hurricane Katrina disaster of 2005 spurred Dr. John, along with many of his New Orleans cohort, into a frenzy of fundraising activity, releasing records, performing benefit concerts and supporting the city and its musicians in every way possible. Another Grammy came in 2008 for 'The City that Care Forgot', the culmination of Dr. John's tireless campaigning on behalf of the victims of Katrina. Perhaps as a reward, Dr. John was made King of the 'Krewe de Vieux' for the 2010 Mardi Gras. He died of a heart attack on the morning of June 6th 2019.