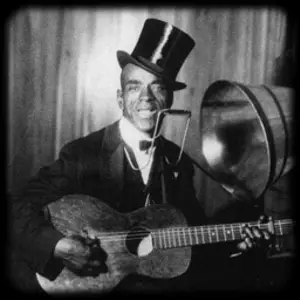 Daddy Stovepipe is best known for being one of the first men to record a Blues song. His first record, where he sang and accompanied himself on guitar and harp, was not a hit when it was released in 1924, but it was a significant milestone in the history of the Blues.
Born in 1867 in Alabama, Johnny Watson was a well established entertainer with the renowned travelling tent show, The Rabbit's Foot Minstrels in the years before WWI. He played 12-string guitar in a style that suggested he had at some time played in a Mexican mariachi band and he sang with a strong, penetrating voice.
In the early 20s, Daddy had gravitated to Maxwell Street in
Chicago
where he worked as a street entertainer, often playing a drum and harp or kazoo as a one-man-band. On May 10
th
1924, Daddy went to Richmond Indiana to record for the Gennet label. He put down three tracks: 'Stovepipe Blues' was issued with the jaunty 'Sunset Blues' on the flip side, with the other track, 'Tidewater Blues' remaining unissued. Three years later he recorded in Atlanta with an obscure whistling Bluesman where they were billed as "Sunny Jim and Whistlin' Joe".
Daddy also recorded with his wife 'Mississippi Sarah', who had a great voice and would honk along blowing a jug. As well as exploiting the late 20s jug-band-craze, their easy banter on their records enhanced the good-time music. After 1931, when record sales plummeted due to the recession the 'Stovepipes' did not record for some years. A 1935 session for Bluebird Records did not revive their fortunes and they 'retired' to Greenville MS.
'The Spasm' by Daddy Stovepipe and Mississippi Sarah;
When Sarah died Daddy went on the road again, touring West Texas and Mexico on his own, and later playing with zydeco bands in Louisiana. By 1948 he was back playing the Blues in Chicago and ten years later as the Folk/Blues revival was getting started, Daddy was rediscovered and given the opportunity to record again. Unfortunately, these 1960 sessions did not find Daddy in good health and his performance reflects this. He passed away after a bout of pneumonia in 1963.