Cosimo Matassa was a pioneer of rocking New Orleans R&B, who produced the revolutionary sounds that made the everybody dance in the early 50s. Working from a tiny studio, Cosimo developed a bass and drum-heavy sound, with light horns and prominent vocals and piano, that propelled several local boys onto the world stage. Studio owners and engineers are never stars in their own right, but Cosimo's skill in knowing where to place the microphones to pick up the boom of the bass and the cut of the snare made a huge contribution to the exciting sound of R&B.
Cosimo was born in New Orleans, and was still a teenager when he opened his first J&M Studio in 1947, using a room behind the family record store on the corner of Rampart and DuMaine, on the border between the French Quarter and Trème. Situated just across from
Congo Square
, this crossroads perhaps symbolised New Orleans' pivotal role in the development of American popular music, as 'all human life' walked by. In that tiny 10×12 back room, with a window into a closet 'control room', the grand piano took up most of the space and the musicians had to crowd around. Cosimo's skill lay in knowing exactly how to place the microphones to best capture the live sound of rocking R&B that was cut directly onto a shellac 'master', because the tape technology that was developed in Germany during WWII was not widely available. When Cosimo yelled "Take One", you'd better be ready to go!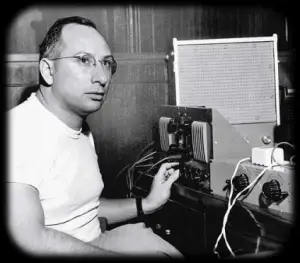 That was the scene in June 1947 when Roy Brown cut his groundbreaking 'Good Rockin' Tonight' for the DeLuxe label. It was a big regional hit and made No.13 in the Billboard R&B chart, but when Wynonie Harris cut a cover, it went to No.1. Trumpeter Dave Bartholemew used the studio to record his band, and when he took the young Fats Domino there in December 1949 to cut 'The Fat Man', the game changed for everybody. This chart topping hit, with its strong bass and drums, became Cosimo's trademark sound and it was closely associated with New Orleans. All Fats early hits were recorded there, as was Little Richard's 'Tutti Frutti' in 1955. The following year, Cosimo moved his operation a couple of blocks east to Governor Nichols Avenue, where he established a bigger, more modern facility. This venue played host to Lloyd Price, Smiley Lewis, Professor Longhair, Lee Dorsey, Dr. John, James Booker, and Fats of course, and it became the workplace of ace producers Dave Bartholemew and Allen Toussaint. Cosimo was very 'hands-on' at this stage, and came up with tricks like fitting different capstans to the tape-decks to run the tapes a little faster, moving the sound up a semi-tone and making it impossible for people to do cover versions. "They just couldn't find the notes!"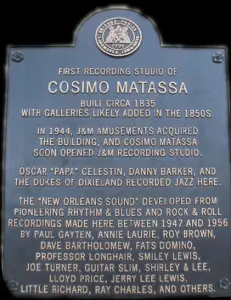 The studio was moved again in 1966, to 738 Camp Street, and later Cosimo was also involved in setting up Toussaint's Sea-Saint Studio. Withdrawing from the music industry in the 80s, Cosimo turned his attention to the family food business in the French Quarter.
The original J&M Studio site has been designated a Rock'n'Roll Landmark, and Cosimo has been inducted into the Louisiana Hall of Fame, The Rock'n'Roll Hall of Fame and the Blues Hall of Fame in recognition of his enterprise and skill.
Cosimo Matassa, who had been ill since suffering a stroke in 2009, died on September 11 2014 at the age of 88.