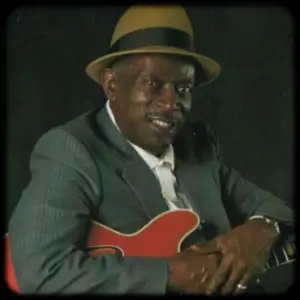 Although he was never a big star in his own right, John Brim made a significant contribution to the Blues catalogue by writing some great songs that heve been covered many times, and mentoring some great young talent in his band The Gary Kings. John's long career took in the early years of electric Chicago Blues just after WWII and lasted well into the new century.
John was born in Kentucky in 1922 and learned guitar from listening to
Tampa Red
and
Big Bill Broonzy
records. He arrived in Chicago via Indianapolis in 1945 and he shared the stage on the South-side club scene with
John Lee 'Sonny Boy' Williamson
and
Muddy Waters
. When he met his wife Grace in 1947 he also acquired a talented drummer and harp player, and she sang on John's recording debut in 1950. The couple teamed up with pianist
Big Maceo Merriweather
, and they played with him regularly until his demise in 1953. The Brims then moved to Gary, Indiana where they formed The Gary Kings and young players like
Albert King
and
Jimmy Reed
passed through the band on their way to future fame.
John's 'Tough Times' is actually timeless!
After recording for the JOB, Random and Parrot labels, John was recruited by Leonard Chess, and he was backed by Little Walter, Robert Jr. Lockwood, Willie Dixon and Fred Below in the stellar Chess house-band. John was not a brilliant singer or guitarist, but he knew how to write a song; his 'Tough Times' is excellent social commentary and his 'Ice Cream Man' was considered so raunchy it had to wait until 1969 to get a release. That became John's signature tune, and it was covered many times down the years, most notably by Van Halen in 1979 on their debut album.
Although he never stopped playing the clubs and was a stalwart of the Chicago Blues Festival, John did not make any more significant solo recordings until 1994, when he reprised his best known material in the company of
Bob Margolin
and
Jerry Portnoy
. When he was 80 years old, John played the 2002 Chicago Blues Festival, but it was to be one of his last appearances and he passed away the following year.
Little Walter joins John on the original version of 'Ice Cream Man';