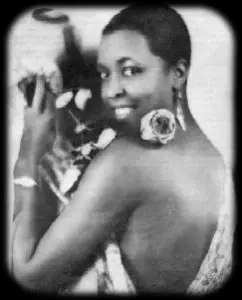 Ethel Waters a.k.a. 'Sweet Mama Stringbean' was an early Blues Diva who went on to a long career as a jazz singer in vaudeville, in nightclubs, then in movies and eventually as a stage actress. With a gift for phrasing that gave her songs a distinctive swing, Ethel was a rival to Bessie Smith as an interpreter of the Blues and her work for the pioneering Black Swan label helped to establish the market for 'race records' in the early 20s.
Born in Chester PA in 1896, Ethel took to the stage as a teenager on the vaudeville circuit, playing theatres on the East coast and the South. She settled in New York in 1919 and her slim and attractive figure saw her solo act billed as 'Sweet Mama Stringbean'.
After
Mamie Smith
's 'Crazy Blues' in 1920 established that African Americans wanted to buy records from their own cultural traditions, Ethel was quickly recruited by Cardinal Records. When
WC Handy
's lyricist Harry Pace set up the black-owned Black Swan label in 1921, Ethel's 'Down Home Blues' was their first Blues release.
Black Swan also promoted concerts for their 'Troubadors', and Ethel often appeared with Fletcher Henderson's Jazz Masters, where her off-centre phrasing lent a swinging quality to their arrangements.
Her smooth, clear, sophisticated style made her a best-selling artist on several record labels and after 1925 her repertoire moved towards jazz with the hits 'Dinah' and 'Stormy Weather'.
Ethel's 'Birmingham Bertha', from her 1929 film debut;
Ethel led her own stage shows like 'Africana', 'Broadway Revue' and 'Paris Bound' on the vaudeville stage, and in 1929 performed in the film 'On With the Show'. A further film with Duke Ellington the following year established Ethel as a regular screen performer over the next couple of decades culminating in 1949 with an Oscar nomination for her role in 'Pinky'. Ethel's accomplished singing made her a popular nightclub act during the 30s, and she took her first dramatic role on the Broadway stage in 'Mamba's Daughters' in 1939, and winning a NY Drama Critics award for Best Actress in 1950. From the mid-50s, Ethel performed almost exclusively as a religious singer, often touring with Billy Graham. She was a talented writer too, with her best-selling 1951 autobiography followed by a second volume, 'To Me It's Wonderful' in 1972. Ethel passed away five years later aged 80.