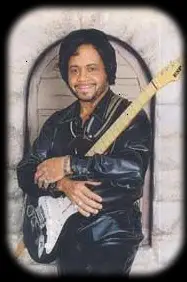 Bobby Parker was a great Blues all-rounder, with a superb voice, a stinging guitar style and a talent for songwriting. His big 1961 hit, 'Watch Your Step' influenced Little Milton, Santana and even The Beatles, leading to a big following in Europe. Bobby was a long-term resident of Washington DC, and a popular act on the Festival scene, where his set was full of his own compositions with very few covers of the classics.
Born in Lafayette LA in 1937, Bobby's family moved to Los Angeles when he was six and, growing up in Hollywood, he was inspired by his show-biz surroundings. Influenced by West-coast Bluesmen like Johnny 'Guitar' Watson, Lowell Fulson and T-Bone Walker, Bobby played guitar with a doo-wop group, Otis Williams and The Charms. After winning a talent contest run by Johnny Otis, he got a gig playing lead guitar for Bo Diddley.
Later he joined
Paul 'Hucklebuck' Williams
' band, and they gained a huge following in the wake of some legendary shows at The Apollo in Harlem. At the same time, Bobby recorded some solo tracks for the Vee-Jay label, which did not make the charts, but shortly after moving to Washington in 1961, he wrote and recorded 'Watch Your Step', which made the Billboard R&B charts and was a hit single in Britain. The Beatles played the song as part of their early live set and it was covered by The Spencer Davis Group and Doctor Feelgood in Britain and
Santana
in the USA.
Bobby's big hit, 'Watch Your Step';
Bobby toured Europe in 1968 and recorded 'It's Hard to be Fair' in London on the
Blue Horizon
label. Jimmy Page was a fan and later wanted to sign Bobby to his Swan Song label, but he preferred to stay in Washington, and he rarely performed outside DC for two decades. Carlos Santana persuaded Bobby to open some of his East-coast shows and in 1993, the Black Top album 'Bent Out of Shape' raised his profile even higher. The follow-up album, 'Shine Me Up' two years later confirmed that Bobby had been hiding a big talent, and he combined his Festival appearances with his long term commitment to the Washington Blues club scene. Sadly he passed away from a heart attack in October 2013.