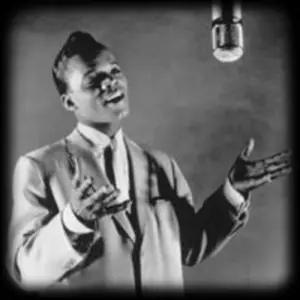 Hank Ballard caused a storm of controversy in the 50s, when established society was getting worked into a froth about 'juvenile delinquents' and 'jungle music', with his mildly suggestive songs about a girl called Annie, which were all banned from the radio but went high in the charts. When that controversy died down, Hank wrote 'The Twist', which taught young a generation of white kids to swing their collective butt and brought him more condemnation. Fortunately it brought Hank some handsome royalties too, as Chubby Checker's cover version sold in the millions all over the world. Although he is not quite famous today, Hank Ballard was a big noise in the 50s.
John Henry Kendricks was born in Detroit in 1927, but was brought up by relatives in Bessemer AL when his father died. Soon after returning to Detroit to work in the auto industry, he joined a doo-wop group called The Royals. Hank's strong, distinctive voice was schooled in Church back in Alabama and, after being spotted by
Johnny Otis
, The Royals got a deal with King/Federal Records. Their 1953 song 'Get It' went to No.5 in the R&B charts, but they had to change their name to The Midnighters to avoid confusion with The Five Royales. Under Hank's leadership they stormed the charts, and his song 'Work With Me, Annie' went to No.1 in the Billboard R&B listings despite being considered too raunchy for radio airplay. It was a huge juke-box phenomenon and might be one of the first records made MORE popular because it had been banned. Johnny Otis worked with
Etta James
to write her breakthrough song in response, 'Roll With Me, Henry', and Hank replied in kind with 'Annie Had a Baby' (No.1), then 'Annie's Aunt Fannie' (No.10) and 'Sexy Ways' (No.2). This run of hits made Hank the best-selling R&B artist of 1954.
 'Work With Me Annie' started a string of 'response' records;
Hank's band suffered personnel changes when influential guitarist Alonzo Tucker left in 1954, then when replacement Arthur Porter was immediately drafted, Hank recruited 17-year-old Texan guitarist Cal Green. Cal toured for five years with The Midnighters before being busted for possession of marijuana and jailed. Hank had more R&B hits in this period, like 'Tore Up Over You' and 'Open Up the Back Door', but the B-side of his 1959 No.4 hit 'Teardrops on Your Letter' was to prove life-changing. 'The Twist' was a song Hank had worked out with Cal Green from a 'spiritual' tune, but when it was covered by Chubby Checker the following year, it was a chart-topper on global scale. They were even 'Twistin' in the White House as the dance craze spread like wildfire, and Hank's original went to No.6 in the R&B charts when it was re-issued. He continued to churn out the hits in the early 60s with seven Top Ten R&B songs and a lot of crossover pop success in the Hot 100.
'The Twist' started a massive worldwide dance craze;
In the mid-60s, The Midnighters broke up as Hank's music was somewhat swamped by the 'British Invasion', although he had a couple of solo hit singles in 1968/69 including 'How You Gonna Get Respect? (When You Haven't Cut Your Process Yet)'. After a spell working with James Brown, Hank continued to tour on the 'oldies' circuit from the late 70s, and was elected to the Rock'n'Roll Hall of Fame in 1990. He continued to play with a re-formed Midnighters until 2002, but sadly, Hank passed away from cancer the following year.