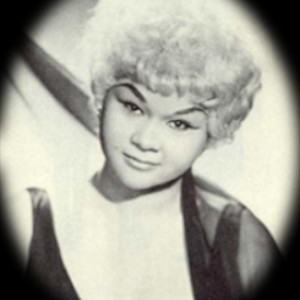 Etta James was a feisty lady with a sultry and passionate voice equally at home with R&B dance tunes and soulful ballads.
Her striking good looks, with almond eyes and short blonde hair, made her a publicists dream, even though she had enough personal problems in her long career to give any manager screaming nightmares.
The 5-year-old Etta was a gospel prodigy, singing in her Los Angeles Baptist Church and making several radio broadcasts.
Her family moved to San Francisco when she was 12, and three years later she formed a group with two other girls billed as The Peaches (Etta's nickname).
Johnny Otis picked up on their 'Roll With Me Henry', a response to Hank Ballard's hit 'Work With Me Annie', but when they recorded the track it was released as 'The Wallflower' as the original title was thought too suggestive for such young girls.
Throughout the late 50's Etta worked the R&B circuit with the Johnny Otis Show and she had regular R&B releases with Modern Records including 'Good Rockin' Daddy' which went to No. 6 in the R&B charts, 'Tough Lover' and 'W-O-M-A-N'.
The original 1962 version of 'Something Got a Hold on Me';
In 1960, Etta signed for Chess Records in Chicago.
Their Argo label hosted a string of solo hits like the soulful 'At Last' and the gospel-charged 'Something's Got a Hold On Me' as well as duets with her then boy-friend Harvey Fuqua of The Moonglows.
By 1963 Etta's drug problems began to surface and her career took a dive. Leonard Chess was very protective of Etta and he helped her to clean herself up and then supervised the third wave of her recording career.
She returned to form in 1966 with a bluesy duet 'In the Basement' with Sugar-Pie DeSanto.
The following year produced the searing soul hit 'Tell Mama' and the unforgettable 'I'd Rather Go Blind' which became her highest charting single.
Leonard Chess died in 1969, and without his guiding hand Miss Peaches fell victim to her personal demons again.
Recommended Album
Etta James was the poster-girl for R&B in the 60s, with her stunning good looks and a voice that could belt out the Blues or break your heart with a soulful ballad with equal assurance.
In the mid-70's Etta returned to gigging, showing that her powerful and expressive voice remained intact, even though her personal life remained in turmoil.
In 1978 she opened for The Rolling Stones and cut a fine R&B album 'Deep in the Night', including killer versions of 'Only Women Bleed' and The Eagles' 'Take It to the Limit'.
Etta sang at the opening of the 1984 Los Angeles Olympics and and in 1989 signed for Island Records and released the acclaimed 'Seven Year Itch' album followed by 'Stickin' To My Guns'.
Other recorded highlights include two albums recorded at Maria's Memory Lane Supper Club and 'Live from San Francisco'.
Studio albums like 'Mystery Lady;Songs of Billie Holiday' (which won a Grammy), 'Heart of a Woman' 'Love's Been Rough to Me' and 'Blue Gardenia' showed the strength and emotion of her voice had hardly diminished with the years.
Etta tells Dr.John that she'd 'Rather Go Blind';
The 2002 album 'Burning Down the House' recorded live at The House of Blues in LA, which included Willie Dixon's 'I Just Want to Make Love to You' and BB King's 'Rock Me Baby', gave her home-town crowd a run through her own repertoire and some delightful excursions into other peoples'.
It remains a thrilling and moving record of a Queen of Gospel, Soul, Blues and Ballads in her mature years. In 2004, she released 'Blues to the Bone' (another Grammy) and, two years later, an album of pop covers, 'All the Way'.
That same year, her Definitive Collection compilation went to No, 1 in the US Blues charts.
In 2009 The Blues Foundation named Etta the Blues/Soul Female Artist of the Year, for the ninth time! Her career and her personal life had many ups and downs, but her legacy is a fantastic catalogue of Soul/Blues that has influenced many later singers.
Sadly, Etta passed away in early 2012, two days after her mentor, Johnny Otis.