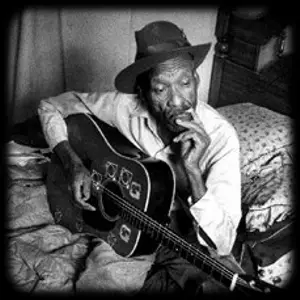 James 'Son' Thomas was a Mississippi Bluesman to the core. His guitar playing, with its vigorous boogies and delicate fingerpicking passages, and his sweet-toned but heartfelt vocals, he left us with some of the deepest, dirtiest Blues of the modern era. A talented sculptor, whose work featured some macabre subjects and used items like skulls and human teeth, Son also had a day-job as a gravedigger. Public recognition came late to Son, with documentary films and several tours of Europe but his records leave a legacy of fine work that show that the soul of Delta Blues didn't jump on a train to Chicago, but remained rooted in the fertile soil of its origins too.
In 1926, James Thomas was born on a farm in Eden MS. He taught himself to play guitar from listening to records and the radio, and began performing at local parties with his uncle, Joe Cooper. He moved on to playing juke-joints and his light, clear voice and thoughtful guitar work saw him playing gigs in Jackson and
Memphis
, and he was known as 'Cairo' Thomas for a while after his own song 'Cairo Blues'. Writer Bill Ferris made some field recordings with Son in 1968 which were issued on the Matchbox album 'Blues from the Delta' to accompany a book of the same name. In 1970, a documentary film featured James 'Sonny Ford' Thomas, talking about his life and work, both as a Blues player and as a sculptor whose other job as a gravedigger formed a ghoulish theme, noting "we all end up as clay". Three further documentaries featured Son, including 'Give My Poor Heart Ease'.
Son's version of 'Catfish Blues' cuts to the chase;
Although he made more field recordings in the 70s, Son didn't make a studio album until 'Down in the Delta' in 1981. This had Son's 'Real Catfish Blues', which has his very non-PC lyrics, with steamy sexual references that open a window on the emotional expression at the heart of the Blues. Son toured Europe that year, returning many times in the 80s and recording for the Black and Blue label in France, as well as featuring on the Blues Festival live albums. In 1982, Son performed at the White House for the Reagans and three years later he was back in Washington again to see his sculpture exhibited at the prestigious Corcoran Gallery.
Many Mississippi Blues Museums now feature Son's sculptures, with their theme of human remains and brief mortality. 'Gateway to the Delta' won a WC Handy Award for Son in 1989, and the following year he recorded another album, 'Bottomlands' with the Swiss harp player Walter Liniger. Son was diagnosed with a brain tumour, and an operation saved his life but didn't restore his health. A few months before he passed away from heart problems in 1993, Son talked with Japanese slide-player Fujii in an interview that revealed him to be a proud, kind man as well as a multi-talented artist.