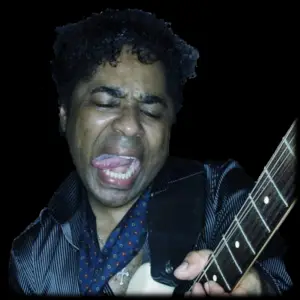 Chris Thomas King was born to the Blues. He built a career in the 80s as an electric Blues guitarist and talented songwriter; introduced hip-hop beats and rapping fusions to his work in the 90s; and gained worldwide fame as 'Tommy Johnson' in the film 'Oh Brother, Where Art Thou?' Further feature film and TV work augmented his reputation as an actor, especially portraying the legends Blind Willie Johnson and Lowell Fulson, and  in the HBO  New Orleans drama 'Tremé'. Chris' s music has developed from his Blues roots to incorporate country themes and elements of Rock to synthesise a truly 21st Century Blues that someone called 'futuristic preservation'.
Born in Baton Rouge LA in 1964, Chris's is the son of Tabby Thomas, who played piano, guitar and sang in his own club, The Blues Box. As a teenager, Chris was good enough a guitarist to tour with
Lowell Fulson
and Joe Tex, and he also travelled to Europe with his Dad. He played all the instruments on the demo that turned into his debut album 'The Beginning' for
Arhoolie
in 1986, when he was billed as Chris Thomas. Relocating to Austin Texas, Chris toured The States and Europe promoting his work, while composing the songs for 'Cry of the Prophets', which was released on the HighTone label in 1990. Experimenting with a Rap/Blues fusion, Chris's next project was blocked by HighTone's parent company Warners, who instead released unfinished versions of his tracks with the hip-hop elements removed. Chris went to Europe to continue with his idea, working in Denmark and London, while touring there extensively and releasing his visionary album. Eventually completed in Los Angeles, the long saga reached an end in 1995 with the American release of the album as '21st Century Blues from Da Hood', on Chris's own label, finally billed as Chris Thomas King.
Chris cut a version of this for the 'Oh Brother' soundtrack:
'Red Mud' in 1998 featured Chris and his Dad an a journey into Delta Blues, where his authentic sounding original songs were joined by numbers from Robert Johnson and Son House. 'Me, My Guitar and The Blues', which was issued two years later, mixed traditional Blues with Rock and Hip-hop in a vehicle for Chris's many talents, and that 'Beginning' album was re-released by Arhoolie as 'Cold Ass World'. Genuine world fame came in 2000 with Chris's depiction of a character based on Tommy Johnson in the Coen Brothers film 'Oh Brother, Where At Thou?' and he recorded a Skip James song for the platinum-selling soundtrack. In Wim Wenders' film 'Soul of a Man', Chris played the role of Blind Willie Johnson; he contributed to Martin Scorsese's series 'The Blues'; and portrayed Lowell Fulson in the Ray Charles biopic 'Ray', again contributing to the soundtrack.
21st Century Blues sounds like this;
On his 21st Century Blues label, Chris has released more of his own music. 'The Legend of Tommy Johnson' channels the style of an almost forgotten master into a modern context; 'Dirty South Hip-Hop Blues' continued his fusion work; in 2006, when his New Orleans home was destroyed by Hurricane Katrina, he released the inspirational 'Rise' album; and his latest work 'Antebellum Postcard' incorporates many diverse influences. Chris has appeared in more films and TV series, notably in 'Tremé', and he is still touring and recording, and he continues to compose screen music.