THE ORIGINS OF BLUES MUSIC
Out of the Delta
The story of Blues Music began in northwestern Mississippi in the late 1800's. It was initially a folk music popular among former slaves living in the Mississippi Delta, the flat plain between the Yazoo and Mississippi rivers. With the Great Migration of black workers that began around that time the Blues spread around the south and the rest of the United States.
The Blues was performed in a variety of settings and styles: musicians often played in 'tent shows' while accompanying travelling doctors, musical companies, comedians, magicians, and even circuses. Ballads would be played, as well as ragtime,
Gospel
songs, and folk tunes. From the Atlantic coast all the way down to the Gulf-and across time-the melancholy flatted notes of the Blues reached many. The typical Blues scale, using flattened notes, was taken up enthusiastically by New Orleans' Jazz musicians, and it became a cornerstone of this 'citified cousin' of country Blues in the early years of the century. When a show reached a town or city, they would perform in the theatres, but always to segregated audiences. The organisers would put on special performances for their white patrons, because strict 'Jim Crow' laws prevented integrated crowds but, on the up-side, this arrangement gave Black performers full ownership of the form on their own terms. The black churches were also independent, and the Gospel music that celebrated their resistance, solidarity and joy, also had the flattened notes of the Blues scale and the 'call and response' vocals typical of the Blues.
Wandering Songsters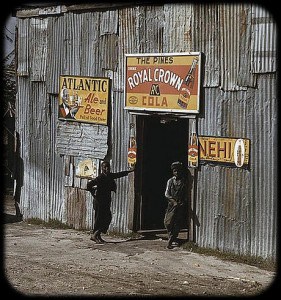 These traveling musicians would do anything to get around and make their shows, whether it was hitching train rides or playing on sidewalks when the clubs and juke-joints were too full. They also played at brothels and drinking halls and sport lounges; when workers got paid they would be there to congratulate and entertain them. Pianists playing in these establishments adapted the Blues to the wild atmosphere of these places, further popularizing the genre. As long as he had his harmonica and guitar there was nowhere the traveling Blues musician couldn't go or play.
The Blues they played wasn't always melancholy: much of it was lively and up-tempo, matching the atmosphere of the clubs and dance halls musicians played in. It was a great outlet for the plantation and factory workers around the United States, who endured many hardships daily. Throughout history the Blues has been a great outlet for expressing life's hardships, but it is also great for expressing joy and celebration, which has made it so timeless and relatable to all who have heard it.
The 'Father of the Blues'.
W. C. Handy
While is there isn't a definite origin as to who exactly created the Blues, we do have a good idea as to how it came to us today:W.C. Handy.
William Christopher Handy was born in Alabama in 1873 and who worked a number of odd jobs before establishing himself as both a musician and a music teacher. He was raised in a strict household that forbade musical instruments, but he secretly bought a guitar and spent hours practicing the trumpet in his first band.
In 1903 he was appointed as bandleader of the Knights of Pythius Orchestra in Clarksdale, Mississippi after leaving a teaching post in Alabama. While waiting for a delayed train on tour he heard a man singing and playing guitar nearby. The man was pressing the blade of his knife on the strings, producing sliding chromatic notes along a three chord progression; the singing proved just as interesting, as he turned a boring wait into a captivating musical journey.
It made an impression on Handy, who described the performance as 'haunting'. With his talent and musical education he wasted no time in copying down his fellow traveler's 12-bar song structure that moved along those three chords, using flattened 'blue notes' too. The vocal part consisted of four bars that were repeated, answered by a third line. The result of this discovery would grow into the Blues as we know it today.
Handy was later commissioned to write a campaign song for the elections in his new home, Memphis, Tennessee by future mayor EH 'Boss' Crump. The twelve-bar opus was titled 'Memphis Blues' and is the first example of the music to be written and published as sheet music. Following that he established a music publishing house in New York City, as well as continuing his work as a bandleader. Through his work and contributions to the genre he earned the title 'Father of the Blues'.
W C Handy's Orchestra with 'St. Louis Blues';
The First Blues Singer (And the Blues Mother)
Ma Rainey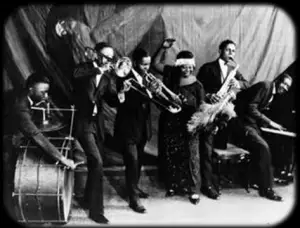 No birth is complete without a mother, and Ma Rainey was, for all intents and purposes, the mother of the Blues. Rainey was born Gertrude Pridgett in 1886 in Columbus, Georgia. She first made her name as a singer at a talent show at the age of 12, and by16 she joined parents' travelling musical act, where she continued earning her stripes.
Things changed after a show in Clarksdale when Gertrude heard a young woman singing a moving song about-you guessed it-lost love. Like W.C. Handy before her Gertrude had the brain for music and quickly memorized it, using it as the closing number in her act with much success. After marrying fellow musician William 'Pa' Rainey she adopted the moniker Ma Rainey and the two began performing as 'Ma and Pa Rainey- the Assassinators of the Blues'. The Blues Diva went on to enjoy a lengthy and fruitful, performing with the likes of Louis Armstrong and Bessie Smith, who was also her protegeé.
Her career is proof that hard work pays off: after 20 years of playing in backwater theaters she ended her career with millions of records sold and jam-packed concerts at some of the biggest theaters around.
Ma Rainey's 'Jelly Bean Blues' from 1924 has the young Louis Armstrong on cornet;
The men from Clarksdale.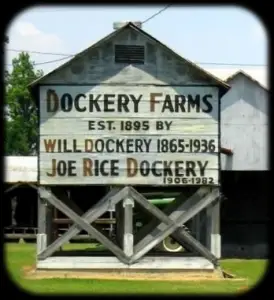 Located in the heart of the Delta, Clarksdale has been dubbed the birthplace the Blues, with the exact spot attributed to the Dockery Plantation. Many sharecropping families and field workers occupied this space, including one Henry Sloan. Not much is known about Sloan, besides that he was born around 1870 and that he was a popular singer and guitarist by the 1900s. He was also a mentor to many future legends, including Charley Patton, Tommy Johnson, Willie Brown and the great Robert Johnson.
It was said that he boarded a train for Chicago in 1917 and simply vanished after that. It could be that it was Henry Sloan that W.C. Handy heard on that fateful day, adding even more mystery to his character, and solidifying his influence on the Blues. Regardless of the rumours his influence is far-reaching: from the electrifying Chicago Blues, to the Blues Revival of the 60s, and even into the birth of rock and roll, he inspired a generation of musicians into creating a cultural phenomenon that forever shaped a nation and music itself.
The Birth of Jazz
he story doesn't end here! Down in New Orleans something different was brewing, and it wasn't gumbo. The Blues scale's trademark flattened notes piqued the interest of enthusiastically by local musicians, who adopted it and formed a new style of music based off of it called 'Jazz'.
Often referred to as country Blues' 'urban cousin', it was widely popular and constantly performed in theatres, but always to segregated audiences due to the 'Jim Crow' laws of the day. There was a silver lining to this: black musicians still had full ownership of the music and played it as they saw fit.
It wasn't just the flatted notes that influenced Jazz: call and response singing had been perfectly transferred onto instruments, and the emotional roller coaster found new tracks to take listeners on.