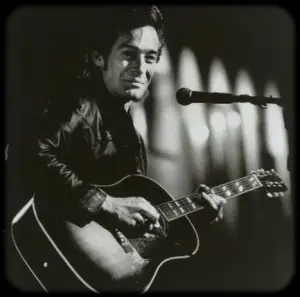 John Campbell was a quiet man who played a dark and haunting acoustic Blues, combining a unique, percussive slide-guitar style with a modern songwriting ethic. The result is an authentic kind of Texas Blues that takes a familiar form, but sounds fresh and new, even when covering the classics. John died before he gained wide acclaim, and we can only guess at where he would have taken his music.
Born in Shreveport LA, he took to playing guitar as a boy, and as a teenager in Texas he was opening gigs for Clarence 'Gatemouth' Brown and Albert Collins. John was also into drag-racing, and that was his big interest for a while. He had a bad accident, which cost him an eye and broke a lot of bones, and while recovering from that he decided to get serious about the Blues. He developed a hard but melodic and intricate sound that was heavily influenced by Lightnin' Hopkins, and when John found a 1934 National Steel guitar that had been played by Lightnin', it served to focus his style. After playing around Texas and New Orleans, John headed for New York, where he found a ready audience on the club scene, and cut the album, 'A Man and his Blues' with Ronnie Earl as producer and guest player, which was issued on a small German label.
John never sent a demo to a record company in his life, but Electra eventually picked up on John's obvious talent, and put out two albums, 'One Believer' and 'Howlin' Mercy'. These showed John working in a variety of moods, with mysterious, drifting numbers mixed with roadhouse rockers and downhome Blues songs that recall their origins in
the Delta
. John toured Europe a couple of times, with great reviews, and his gravel voice and range of virtuoso guitar playing showed a talent that was developing into something quite special.
Johnny 'Slim' Campbell died in his sleep from a heart attack at his home in New York on June 13th 1993.

Check out this rocker, followed by a masterclass in guitar styles;