CLARENCE 'GATEMOUTH' BROWN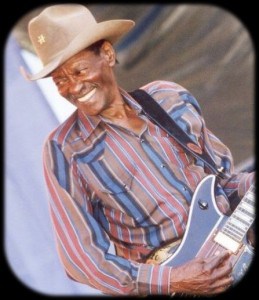 With its wide range of influences, from French cajun to Irish folk, and Scandinavian 'shilling songs' to polkas, as well as the obvious African, Caribbean and country roots, Texas Blues comes up with some colourful and innovative artists, but guitar and fiddle player Clarence was one of the finest. Playing harp and drums, as well as many stringed instruments, this versatile son of Orange, Texas was as much an old-time songster as he was a pure Blues man. His eclectic approach to music led him down many pathways, but his use of fiddle as a Blues instrument and the horn-like lines of his guitar playing was a big influence on many younger players from the region.
Born in Vinton LA in 1924, Clarence's family moved a few miles down the road to Orange, Texas when he was a baby. His father was a talented guitar, mandolin and fiddle player, so by the time Clarence was ten, he could play too. He picked up the 'Gatemouth' tag as a kid, when a teacher said he 'had a voice like a gate', and his brother James was known as 'Widemouth' when he too went on to a career in music. 'Gate' was drafted into the Army during WWII and when he came back he was at a gig at Don Robey's Bronze Peacock Club watching T-Bone Walker, when the Texas legend was taken ill. Gate jumped up on stage and improvised 'Gatemouth Boogie' on T-Bone's guitar, and this persuaded Robey to give him a chance at the club. When Robey set up Peacock Records, Gate was his first signing, which began a successful partnership that lasted until 1960. Gate played fiery, country-flavoured Blues and R&B and his guitar licks influenced young local players like Johnny 'Guitar' Watson, Albert Collins and Johnny Copeland. His recording career was successful in regional terms, with good selling records like 'Okie Dokie Stomp' and 'Just Got Lucky', but his only national hit came in 1949 with 'Mary is Fine', and his royalties were always shared with 'Deadric Malone' (Robey). However, his wild and wonderful stage act meant Gate was always in demand, and at one time toured with a 22-piece band.
Gate plays 'Okie Dokie Stomp';
After parting company with Peacock, Gate found the going tough, as his recordings for smaller labels did not make much impact. He moved to Nashville, where his Jazz/Blues fiddle playing was appreciated, and it was there in 1966 that he started leading the house-band on the network TV show 'The Beat', backing a host of R&B talent. In the early 70s Gate found fame in Europe with the American Blues Festivals and he recorded for the French Black and Blue label. His work was so pioneering that he toured Russia and Africa on behalf of the State Department of the US Government. In the 80s, Gate recorded a series of great albums for Rounder, winning a Grammy for 'Alright Again!' in 1883, which re-launched his career in the States, and from then on he was constantly on tour.
Alligator
Records released the acclaimed 'Pressure Cooker' album in 1986 and Gate picked up a pile of awards over the next two decades, and took his total recorded output to more than 20 albums. He returned to Russia and Africa, and was a welcome guest in Europe, South America and Australia as he took his unique 'Blues hoe-down' around the world again, occasionally breaking into a waltz or calypso just to switch the mood!
'Gate' celebrates his Southern roots;
Gate continued to tour and record well into the new Millennium. Hurricane Katrina destroyed his Louisiana home and he evacuated back to Orange, Texas where he lost his fight against lung cancer.