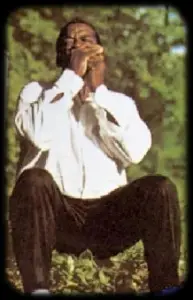 When producer Steve LaVere discovered that Papa George was still blowing his harp in his native Natchez MS in 1969, he whisked him into Malaco's new Jackson studios to record some real down-home country Blues harp. Papa George's habit of singing through his harp-mic gave his already rough voice a ragged edge, but his instrumental technique was superb, as displayed on the resulting 'Natchez Chase' albums.
Born in Natchez in 1924, Alexander Lightfoot first recorded for Peacock as one of The Gondoliers, with pianist Tommy Ridgley, backing various singers in Houston. As a solo artist, Papa George cut a few tracks in New Orleans which were released by Aladdin Records, and in 1953 he cut some fine Blues in New York with 'Champion Jack' Dupree.
However, it was his recordings in New Orleans for Imperial the following year that really caught the ear. He cut a blistering version of 'When the Saints Go Marching In' and his double-sided single 'Mean Ole Train' and 'Wine, Whisky' Women' sold extremely well. These sessions were also to feature on many compilations of
Harp Blues
and New Orleans style. However, when Papa George moved on to the Savoy label that success fell away, and he was not to record again for many years, but continued to play in bars and clubs around the region.
Old school Blues harp boogie like you've never heard before;
When interest in the old-school players was re-kindled in the 60s, those examples of Papa George's arresting style began to appear on those compilations, leading to his revival as a recording artist. A player of Papa George's unique quality looked set for world acclaim on the Festival stage, but before that could happen, his health began to deteriorate, and he died from respiratory failure in 1971.