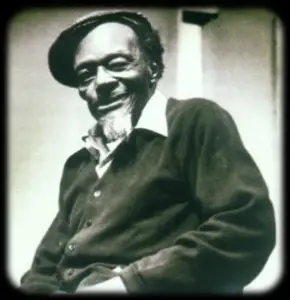 This Carolina harp virtuoso spent most of his life travelling the South with carnivals and medicine shows. As a teenager, Arthur Jackson lived the life of a hobo, 'riding the blinds' on the railroads between South-Eastern towns where he would play his harp for tips. On his one journey North to Buffalo NY, he almost died from frostbite, losing his fingernails and parts of his ears! Then, in 1930, he lost a leg in a railroad accident while 'riding the blinds' on the railroad and so he acquired the name 'Peg-Leg'. On his travels, 'Sam' accumulated a massive repertoire of Piedmont Blues songs, folk tunes, comedy numbers and monologues, as he spent decades on the road as a 'wandering songster'. He was a 'natural' at drawing a crowd, dancing along as he performed tricks like playing two harps at once and recounting his tall tales. He was discovered in 1972, when he was already in his 60s, playing with The Chief Thunder Cloud Medicine Show. He cut an album, 'Medicine Show Man' for the Trix label (re-issued as 'Kickin' It') with Piedmont guitarists Baby Tate and Rufe Johnson. He then forged a partnership with guitarist Louisiana Red, performing live together and cutting an album and several live tracks ffrom Festivals. [stextbox id="custom" caption="Peg-Leg Sam Discography" float="true" align="right" width="300″]This a re-issue of 'Joshua', Peg-Leg's 1975 album made with Louisiana Red. There are some tracks where Sam plays without Red in this superbly recorded document of country Blues harp.
EARLY IN THE MORNIN'
[/stextbox]Sam's engaging character made him a huge favourite at Blues and Heritage Festivals, entertaining the crowds with his dancing, his stories and his superb country Blues harp. His spectacular playing style, with tricks like blowing harp with his nose while singing, or popping it in his mouth and clapping, or playing two harps together, would not have been out of place in juke-joints fifty years before. Sadly Sam's time in the spotlight did not last long, and he passed away in his hometown and birthplace, Jonesville SC, in 1977.
[div class="myadds"]
[/div]
 Peg-Leg Sam was a born entertainer, as this brilliant archive clip shows;
[weaver_youtube http://youtu.be/OciGRpwJfkI id=videoid sd=0 percent=100 ratio=0.5625 center=1 rel=1 https=0 privacy=0]