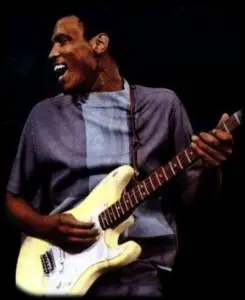 Magic Sam was a pioneering guitar virtuoso on the club scene on the West-side of Chicago in the late 50s, where a new generation of Blues guitarists like Freddie King, Otis Rush, Luther Allison and Buddy Guy were tearing up the rule book. Sharp-edged guitar phrasing, honking saxes and hysterical vocals were the hallmark of this sea-change in Chicago Blues and Sam's emotional intensity marked him out as a compelling performer, who would undoubtedly have won world-wide fame had he not died so young.
Sam Maghett was born in Grenada MS in 1937 and grew up listening to the local Blues music played in bars and on street corners all around him. He was keen to launch his own career as a guitarist and trod the well-worn path to Chicago when he was still a teenager.

He had worked up his chops to the level where he quickly got work in the clubs, and eventually a spot in
Homesick James
's band. When he gigged with his own band as Good Rockin' Sam, he attracted the attention of Cobra Records. Owner Eli Toscano wanted to call him something old-fashioned like 'Sad Sam' or 'Smokey Sam', but when Sam's long-time bass player, Mack Thompson, came up with 'Magic Sam', the matter was closed. In 1957, 'All Your Love' and 'Easy Baby' showed Sam to be a trailblazer of the new wave of West-side players, which included his label-mates Buddy Guy and Otis Rush.
Willie Dixon wrote and produced this little gem;
When Toscano was 'eliminated' and Cobra went bust, Sam did not join the exodus to the Chess label. Instead he was drafted, leading to desertion, time in the hole and a dishonourable discharge. When Sam got back to Chicago after this unpleasantness, he made some recordings for the Chief label and his popularity in the clubs kept him busy. Sam's 'uncle' Shakey Jake Harris was a respected harp player and they would gig together and play on each other's records. A live album 'Magic Touch' in 1966 showed Sam and Jake's sure technique.
Sam Charters
' Delmark label released Sam's most important material; 'West-Side Soul', his only studio album, in 1967 and 'Black Magic' the following year. This body of work set the ground rules for modern electric Blues, with restrained but insistent use of horns; soulful, emotive vocals; a palpable sense of repressed energy and, above all, those sparkling  guitar runs. Such talent was not going to stay in the local clubs forever, and Sam began touring The States. He was especially popular in San Francisco, playing rapturous gigs at the Fillmore West and the Avalon Ballroom. A blistering performance at the 1969 Ann Arbor Blues Festival stole the show and led to a string of prestigious gigs, a tour of Europe and the prospect of a big contract with Stax.
Chicago West-side Blues at its finest;
Sam suffered a massive heart attack in December 1969, aged only 32. A look at the DVD of that Ann Arbor set will show you that, if he had lived, Magic Sam would have been one of the Blues' biggest stars. As it stands, he remains a brilliant example of under-appreciated genius.