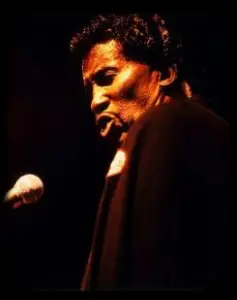 Screamin' Jay Hawkins never sold a lot of records in the greater scheme of things, but his one hit, 'I Put a Spell on You' was hugely influential and his talent for theatrical live shows made him a star. Usually emerging from a coffin onstage, wild-eyed and raving, toting a smoking skull on a pole and hamming it up by wrestling rubber snakes and suchlike, this 'shock rocker' had a long career doing the same kind of voodoo-inspired music, but it was always played for laughs. Jay toured the world with his frenetic R&B act, and later he embraced the horror-flick genre with soundtrack work and the occasional cameo, exposing his weirdness to new generations.
Born in 1929 in Cleveland, Jalacey Hawkins learned piano as a child and held early ambitions to be an opera singer. He joined Tiny Grimes' band in 1951, and soon went on to a solo career that consisted mainly of one song, 'I Put a Spell on You' which was released in 1956. It had trouble getting radio play because of the suggestive content and a second version was put out with rather less of Jay's grunting and moaning, but it still did not feature in the Billboard Hot 100 or R&B charts. However the song had such a cultural impact, it was later included in the Rock'n'Roll Hall of Fame list of '500 Songs that Shaped Rock'n'Roll'. Always the showman, Jay was encouraged/bribed by Alan Freed to emerge from a coffin at the start of his act on one of his famous Rock'n'Roll tours, and Jay began to incorporate even more voodoo jive into his sinister stage persona, which he played to the hilt throughout his whole career. Further singles like 'Feast of the Mau Mau' and 'Frenzy' did not trouble the charts, but several of Jay's songs have found fame in film and TV soundtracks, and he made a cameo acting appearance in 'Mystery Train'. At no point did Jay take all this too seriously and one of his songs, 'Constipation Blues' was often performed from a toilet onstage.
Please, Please, Please watch this British TV performance!
In the 80s, Jay was living in New York and began a collaboration with The Fuzztones which resulted in a live album. Jay put out his own album 'Black Music for White People' in 1991, and scored a hit in the UK with a single from that album, Tom Waits' 'Heart Attack and Vine', which also featured in a Levi's ad. During the 90s, Jay played many Blues Festivals and Film (!) Festivals and toured with The Clash and Nick Cave, as his voodoo Rock was displayed to a new generation. When Jay died during surgery in Paris in 2000, it emerged that he had fathered at least 55 children. He must have 'put a spell on' a lot of women!