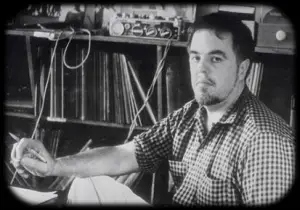 Writer, film-maker and musicologist Alan worked with his father John making field recordings of all kinds of folk music for the Library of Congress. He was responsible for discovering and promoting many Blues performers and went on to cast his net wide across the world, including Europe, Africa, Asia, South America and the Caribbean, promoting the cultural heritage of people whose traditions are in danger of being swamped by globalisation. Perhaps Alan's most important contribution to the Blues was when he recorded a session at Stovall's Plantation, near Clarksdale MS, in 1942. The young singer that day was a field hand called McKinley Morganfield, and when Alan sent him a copy of the disc, and the young man heard his voice on a record, something changed in the world. The youth packed a bag and headed for the city, the legend of Muddy Waters was born, and Delta Blues took a big step towards becoming the cornerstone of modern Rock music.
Alan was born in 1915 in Austin Texas the son of John A Lomax, an academic at the University of Texas with an interest in folklore. From the mid-30s, Lomax Sr. made many field trips around the region on behalf of the Library of Congress, recording folk songs in both black and white communities on heavy, primitive disc-cutting equipment installed in the back of his car. While studying for his degree at U of T, Alan would travel with his father and when he graduated he became an Assistant Archivist for the Library of Congress. Soon he began to work for CBS on national radio, where he played and sang himself and introduced artists like Woody Guthrie,
Lead Belly
and
Josh White
. In 1940 he supervised the recording for RCA of Woody's 'Dust Bowl Ballads' and Lead Belly's 'Midnight Special and other Prison Songs'. It was during this period that Alan made some of his most important field recordings, including that encounter with young Muddy and his fiddler
'Son' Sims
, some tracks by
Bukka White
(in jail!),
Son House
,
Blind Willie McTell
and the last recording of
Willie Brown.
Library of Congress film of Alan describing some early recordings;
After service in WWII, Alan spent more than a decade based in London, where he recorded English, Scottish and Irish folk songs and travelled widely in Continental Europe. He compiled an 18 album collection for Columbia called 'The World Library of Folk and Primitive Music', and formed a 'skiffle group' with Peggy Seeger, Ewan McColl and Shirley Collins that performed on British radio and TV. When Alan returned to The States, Shirley went with him and was part of the field trip team that discovered Mississippi Fred McDowell in 1959. Alan's work in the area of cultural diversity continued for several decades, from promoting Cajun French in Louisiana, to recording gamelan music in Java, bagpipes in Azerbaijan and pan-pipes in Peru. His Association for Cultural Equity (ACE) at Hunter College NY houses the Lomax Archive and is dedicated to preserving and spreading the cultural heritage of minority social groups from all over the world. The ACE has embarked on an exciting project called 'The Global Jukebox' to put much of the archive on-line for free streaming, and this work is in progress. In Alan's words, he's fighting "cultural grey-out" because he feared that soon there'd be "nowhere worth visiting and nowhere worth staying". Alan was presented with the National Medal of Arts in 1986 and a Library of Congress 'Living Legend' Award in 2000, and sadly he passed away two years later.