Skip James was one of the most influential early Bluesmen, but his importance as a stylist remained undiscovered until he was brought out of a long retirement by the Folk/Blues revival of the early 60's. His performance was characterised by eerie falsetto vocals and delicate guitar picking in the minor keys. These features, along with the 'melismatic' style of singing that stretched a single syllable over several notes, gave rise to this strand of Blues played in the South of the Delta being named the 'Bentonia School' as opposed to the darker shades found further North around Clarksdale.

Born in 1902 and raised in Bentonia, Nehemiah Curtis James was brought up in a religious family: his father was a Baptist minister. Skip learned piano in school but picked up guitar from his friend Henry Stuckey. The pair were a popular act in the area, playing fish-frys and parties, while working as labourers building up the levees along the Mississippi. In 1930 Skip was picked up by a scout for Paramount Records, and he cut some tracks in a two day session at their Grafton, Wisconsin studios, but the records did not sell well as the Depression began to bite. The music made a big impression on the young
Robert Johnson
who adapted Skip's 'Devil Got My Woman' and '22/20 Blues' as his own 'Hellhound on My Trail' and' 32/20 Blues'. The funky piano playing and rippling guitar riffs on these early recordings show a musician in confident mood, but poor sales popped his bubble and led to Skip giving up the Blues altogether.
Beautiful version of 'Hard Time Killin' Floor Blues';
By 1932 Skip was ordained as a Baptist minister and he had moved to Dallas where he formed the Dallas Texas Jubilee Singers to back his father's preaching. After much travelling around the South on religious business, Skip moved back to Mississippi in the mid-40's and was ordained as a Methodist minister in 1946.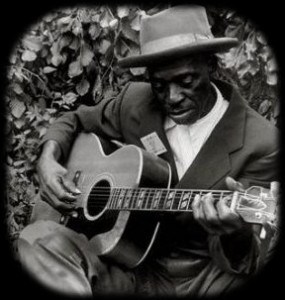 After over 30 years retirement from the Blues, Skip was rediscovered by Blues enthusiast Bill Barth, guitarist John Fahey and future Canned Heat member Henry Vestine . They persuaded Skip to appear at the Newport Folk Festival in 1964, where his renditions of his old songs were still powerful and moving. The growing interest in the men who originated the Blues meant there was suddenly a market for his music that Skip could never have dreamed of. He cut his 'Skip James Today' album in 1964, and a few years later followed it with 'Devil Got My Woman'. He was a fixture on the Festival circuit, including European tours, and sometimes toured with another 'old school' player, Mississippi John Hurt.
When British 'supergroup' Cream recorded a version of Skip's tune 'I'm So Glad' on their second album in 1966, it must have brought in more money in royalties than Skip had earned in his entire career. Unfortunately he had little time to spend it as his life was taken by cancer in 1969. He is buried with his wife and life-long partner Lorenzo near Philadelphia.