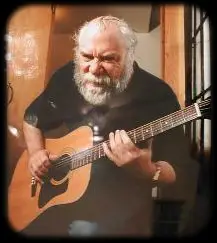 The life of John Fahey is a fascinating enigma. He was an influential and innovative Folk/Blues guitarist; he set up his own record label as a teenager; he was an academic and musicologist; he re-discovered and recorded Bukka White in 1963; his music moved into the avant-guard with classical and Eastern influences; he struggled with alcoholism and a rare nerve syndrome; he found success as an abstract painter; he started another record company that released a triple-Grammy winning album, and won one himself; then in the wake of this late success, John promptly died.

John Aloysius Fahey was born in Washington DC and raised in nearby Tacoma Park, Maryland. His early interest in folk and country music suffered a 'religious conversion' when he heard the records of
Blind Willie Johnson
, but he turned to The Blues rather than The Lord. John recorded a couple of his own songs and in order to release them, set up Tacoma Records. The B-side of the disc was attributed to 'Blind Joe Death' and when John sent it to various magazines, the hoax was not spotted. When John went to college at Berkeley, his Masters thesis was on the work of
Charley Patton
, and he completed it with the help of his friend, fellow Blues fan and future member of Canned Heat,
Al 'Blind Owl' Wilson
. In 1963, John and another Blues fan Eugene 'ED' Denson travelled to
Memphis
to locate and record
Bukka White
, and the subsequent release of this material on the Tacoma label was a major event in the Folk/Blues revival. John's own album 'Death Chants, Breakdowns and Military Waltzes' sold well too, and he continued developing his own sound, with excellent fingerpicking in strange tunings and with sudden switches of style. John put out many albums which combined a Blues sensibility with elements of Indian, Brazilian, Gamelan and classical music. The Tacoma label signed other artists: Leo Kottke sold half a million copies of his '6 and 12 String Guitar', and
Robert Pete Williams
,
Mike Bloomfield
, The
Fabulous
Thunderbirds
and Canned Heat all appeared on John's label.
John's 'Desperate Man's Blues';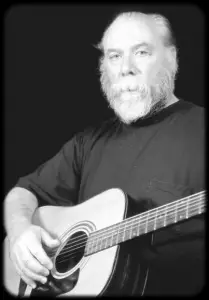 By the mid-70s, John's personal life was falling apart. Alcoholism, a string of failed marriages and the sale of his record company were bad enough, but John was also diagnosed with Epstein-Barr syndrome, a rare chronic fatigue virus made worse by his diabetes. John eventually overcame Epstein-Barr after a long struggle, but ended up broke and living in a motel. He managed to keep gigging and recording sporadically, including a series of Christmas albums, but his career was bumping along the bottom. John found a new creative outlet in painting, usually with found materials, and he began trading his artwork at the second-hand record stores where he scraped a living trading rare vinyl. John's guitar style had often been called 'American Primitive', and his abstract paintings were definitely in that vein too. They were later to become valuable and were exhibited in New York galleries.
'Sunflower River Blues'
A series of articles in Spin Magazine led to John developing a following among American 'alternative' bands like Sonic Youth, and a retrospective album 'Return of the Repressed' was released on the Fantasy label in 1994. A legacy allowed John to set up the Revenant label in 1995, and 'The Legend of Blind Joe Death' was released. This was a repackaging of John's first two Tacoma albums, and his 'Womblife' album came out on the Table of Elements label in 1997. Revenant signed artists like jazz guitarist Derek Bailey, pianist Cecil Taylor and banjo legend Dick Boggs, and John won a Grammy for his liner notes to his Anthology of American Folk Music in 1997. Further triple Grammy success followed for 'Screamin' and Hollerin' the Blues', Revenant's acclaimed seven-CD box set of the work of Charley Patton, including another Grammy for John's liner notes. Sadly, this was a posthumous award as he died during heart surgery in 2001.