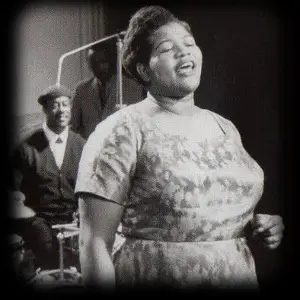 Everything about Willie Mae 'Big Mama' Thornton was Big. She was a big woman with a big voice, a big harmonica sound, a big stage presence and a big hit record. Her version of Leiber and Stoller's 'Hound Dog' sat on top of the R&B chart for seven weeks in 1953, but that achievement was overshadowed by the worldwide impact of the Elvis version released in 1956. When she wrote the tour de force number 'Ball and Chain', it became the song that launched the worldwide career of Janis Joplin, and Big Mama was left in the shadows again.
When Big Mama was small, she sang with her mother in the Alabama church where her father was the minister. In 1941, the 14 year old Willie Mae moved to Georgia to join The Harlem Hot Review which afforded her seven years in which she polished her singing and her stagecraft as the Revue toured the South. Finally she settled in Houston, Texas appearing on the club scene as an accomplished singer, a fine harmonica player and a solid drummer. She signed for Don Robey's Peacock Records in 1951, scoring a regional hit with 'Partnership Blues'.
Like many Texas based artists, Willie Mae had contacts in Los Angeles and while she was there, she was given the song, 'Hound Dog' by Jerry Leiber and Mike Stoller. She recorded the track in 1953 with Johnny Otis, who claimed a writing credit on this version, and it was the biggest R&B record of the year. Despite this monster hit, Willie Mae never really troubled the charts again, even though she issued a steady stream of good records on Peacock, such as 'I Smell a Rat' and 'Stop Hoppin' On Me', and she also toured extensively with various R&B packages. When she was back in Houston in 1954, Willie Mae was a witness to the accidental death of rising young pianist/singer Johnny Ace, who had shared a duet with her on 'Yes Baby'. He was waving a pistol around backstage, and may have been quite drunk when he put the gun to his head and blew his own brains out.
The original 'Hound Dog' from 1953;
In 1961, Willie Mae relocated to the San Francisco Bay area where she was a fixture at the local Blues clubs. In 1965 she toured Europe with the Folk/Blues Festival and in London she recorded a live album with the Muddy Waters Blues Band. She repeated the idea back in SF with the Chicago Blues Band, both albums appearing on the Arhoolie label. 'Ball and Chain' was the title track of her 1968 album, a powerful Blues on the pains of love that Willie Mae wrote herself. It was immediately picked up by Janis Joplin and recorded as the stand-out track on Big Brother and the Holding Company's breakthrough album. Once again her finest work was usurped by an iconic white artist, and her version largely overlooked in popular memory.
Recommended Album
These original recordings show the raw talent that this woman had. Once you've heard her 'Hound Dog', you'll know why it made such a big impact.
Willie Mae put out further albums with Mercury, 'Stronger Than Dirt' and 'The Way it Is' around the turn of the decade. She continued to work the Festival circuit throughout the seventies, and a sudden burst of recording activity in 1975 saw her release two live albums 'Sassy Mama' and 'Jail'. The latter was recorded at sessions in two north-western prisons, and features a long laid-back version of 'Ball and Chain'. Drinking was starting to take a toll on Willie Mae's health, and she began to lose weight, becoming positively scrawny compared to the statuesque figure she cut in her prime. She died alone in a Los Angeles rooming house from a heart attack in 1984. It was a sad end for a genuine Blues talent whose best work was never given the credit it deserved.
Buddy Guy backs Big Mama's 'Ball and Chain';