Sonny Boy Williamson - Man of Mystery
It could only happen in the Blues! Two men using the same name, playing the same instrument in different cities, but at the same time. If that wasn't confusing enough, record companies have compounded the confusion by putting out albums by both men entitled 'The Original'! What on earth was going on?
John Lee Williamson, born in Jackson Tennessee in 1914, learned blues harp from listening to Noah Lewis and other jug-band players around Memphis, and toured the juke-joint and fish-fry circuit all over the South with Sleepy John Estes under the name 'Sonny Boy' Williamson. His 'call and response' style of using the harp to answer his vocal line and his virtuoso playing helped to establish the Blues harp as a feature instrument when he relocated to Chicago where he played on hundreds of records.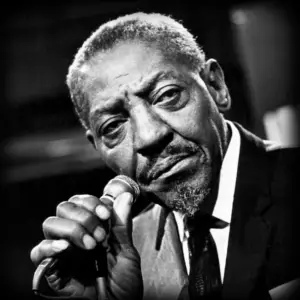 Meanwhile back in Memphis, on The King Biscuit Radio Show another 'Sonny Boy Williamson' was a resident star harp player on their live blues broadcasts.  He was a dark and shadowy but supremely talented rogue usually known as Rice Miller. Little is certain about his origins, or even his real name, but he was from Mississippi and was quite a bit older than John Lee. In the mid-30's he was also blowing his harp around the Delta as 'Little Boy Blue', with guitarists including Robert Johnson, Elmore James and Robert Nighthawk.
It seems bizarre in these days of intellectual property rights, copyright and royalty payments, that a situation where two artists were using the same name could go unchallenged. Contracts weren't a big part of the business so perhaps both men looked for the up-side; John Lee was making all the money he needed in Chicago, and King Biscuit Time was a local radio show that didn't reach Chicago. Rice Miller didn't make any records, and the publicity he generated on the air and at his lucrative gigs maybe even sold some records for John Lee. Rice Miller got fantastic publicity and as many gigs as he wanted and the flour company was happy to have a big name endorsing their product as the audience munched on their lunchtime biscuits. Everybody wins!