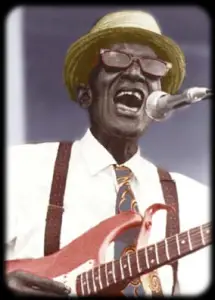 Sleepy John Estes was an important and influential re-discovery of the Folk/Blues revival of the early 60s. His guitar work was never more than rudimentary, but his clear piercing voice conveyed his authentic and personal country Blues to a new generation of fans and performers, and his songs live on in the work of many modern bands.
John Adam Estes was born into a sharecropping family near Ripley TN in 1899, and learned to play guitar as a young man, often teaming up with harp and jug player Hammie Nixon and guitarist and mandolin player Yank Rachell.

The trio worked around
Memphis
in the 20s in various jug bands, where they were seen by scouts for Victor Records who cut some tracks with them in 1929. John had a habit of falling asleep at a moments notice, and this was the basis of his performing name, but he was not necessarily a lazy man because he worked on a railroad maintainence gang, where he used that sharp clear voice to call out the work songs that kept his crew going. It is more likely that he suffered from narcolepsy, but 'Narcoleptic John' is not a catchy name! Sleepy John travelled around the Delta juke-joints in the 30s, where he played with other wandering musicians like
Robert Nighthawk
and
John Lee 'Sonny Boy' Williamson.
One of Sleepy John's early hits;
In the July 1935, Sleepy John and Hammie moved to Chicago where they cut the first of 30 recordings for the Decca label. 'Drop Down Blues' sold very well and John's intensely personal songs recorded at this time, like 'Lawyer Clark' and 'The Girl I Love She Got Long Curly Hair', are strong examples of authentic country Blues. Sleepy John's song 'Some Day Baby', which became known as 'Worried Life Blues', was a big seller, but in 1941 he switched to the Bluebird label, where he cut some solo tracks and released more as part of The Delta Boys with Son Bonds and Ray Thomas. John had lost an eye in an accident as a teenager and he was beginning lose his sight in the other eye, so he moved back to Memphis in the early 40s, and pretty soon he was totally blind.
Sleepy John wrote this classic;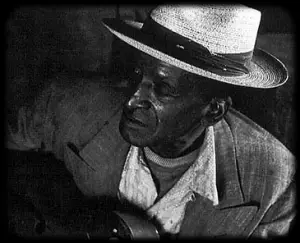 Sam Phillips recorded Sleepy John in his Sun Studios in the early 50s, but like all their Blues acts he was dropped when Sun became too busy with Elvis and the rockers. Sleepy John faded into obscurity and was thought to be dead when he was discovered living in Brownsville TN in 1962 by researchers Sam Charters and Bob Koester. He appeared in a couple of documentary films, and cut the 'Legend of Sleepy John Estes' album with his old friend Hammie on harp, for the Delmark label. An appearance at the Newport Folk Festival in 1964 led to a European Blues Festival tour, and Sleepy John was a regular visitor down the years. He recorded several albums in Europe, both live sets and studio sessions and he often included references to his travels.
Sleepy John's simple but powerful style had a huge influence on a generation of singer/songwriters who used the Blues form to address the concerns of the day. John's evocative performance led to many Smithsonian Folklife Festival appearances in the early 70s, as well as several American and European Blues Festivals, and included a trip to Japan. He continued to record for several small labels and give the  occasional concert, but age was catching up with Sleepy John, and he slipped away in 1977.