JOHN LEE 'Sonny Boy' WILLIAMSON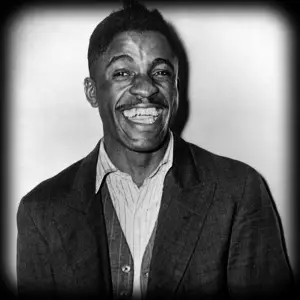 There were two men who used the name Sonny Boy Williamson, and both made a huge contribution to the Blues. One was an open-hearted genial fellow who made the harp a fixture in Chicago Blues bands, and died very young; the other was a utter rogue, whose juke-joint skills brought the sound of the Mississippi Delta into modern rock music.
In 1914, John Lee Curtis Williamson was born in Jackson Tennessee, about a hundred miles north-east of Memphis. When he was a teenager, the Jug Band craze was sweeping the area and the young man would have heard Noah Lewis play his harp with Gus Cannon's Jug Stompers and Will Shade with The Memphis Jug Band.

The harp was used in these bands to add little riffs and trills to the banjo and guitars that would carry the tune. John Lee learned some technique from these men but he was destined to take the harp much further. He had a light clear voice and his 'call and response' style, where he used the harp to answer and extemporise on his vocal line, as well as his virtuoso solo breaks, helped to establish the Blues harp as a feature instrument in a band setting.
A perfect example of Sonny Boy's distinctive 'call and response style'- 'Sugar Mama';
In the early 30s, John Lee toured the South in the company of guitarists like Yank Rachell and Sleepy John Estes where he performed under his nickname 'Sonny Boy' Williamson. By 1935, he was regularly performing in Chicago, and a couple of years later he was signed by RCA/Victor where his first recording sessions for their Bluebird label gave us 'Good Morning School Girl', 'Sugar Mama' and 'Bluebird Blues'- which have all become classics. Sonny Boy's thoughtful and measured style made him a valuable session man for RCA, and over the next decade he became part of the 'Bluebird Sound'. Producer Lester Melrose came up with the idea of a house-band for the companies he worked for, where the best group of session players would back the label's headline singers, such as Lil Green, Big Joe Williams, Memphis Minnie and Arthur 'Big Boy' Crudup, as well as backing each other. Lonnie Johnson, Tampa Red, Big Bill Broonzy, Roosevelt Sykes, Big Maceo, Washboard Sam, Robert Nighthawk and Kansas Joe McCoy were all part of this successful formula that Leonard Chess copied some years later, and which Stax and Motown also used to good effect.
Sonny Boy's version of a Robert Johnson composition;
Sonny Boy was a prolific songwriter, coming up with 'TB Blues', 'Sloppy Drunk Blues', and 'Groundhog Blues', among dozens of others, and in total he recorded solo 125 tracks and about 100 more in session for other artists. All of his records and compositions were issued under the name Sonny Boy Williamson, and the income from sales of his work and session fees meant he was a comparatively rich young man. We don't know what he thought of some guy back in Helena using his name on the King Biscuit Time radio show, but so long as he didn't put out any records or start gigging north of Memphis, I would guess he thought there was no harm done. By all accounts, the easy-going Sonny Boy was very well liked and respected on the Chicago Blues scene. Along with Big Bill Broonzy and Tampa Red, he helped a lot of young musicians to get established in the city. Generous with his cash as well as his time, young men like Junior Wells and Billy Boy Arnold talk of how he coached them to develop their harp playing. It is perhaps his reputation as a wealthy citizen that contributed to his sad end. John Lee Williamson was beaten to death in a street robbery in Chicago on June 1st 1948 . Reports of the details differ substantially.
Here, Yank Rachell gives his version of Sonny Boy's killing;