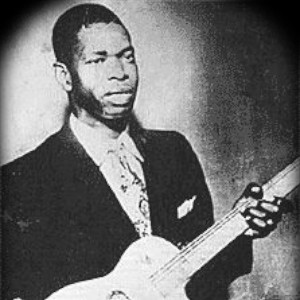 Elmore James was a genius of the slide guitar.
His influence is heard in the work of almost every post-war bottleneck player, and the source of his inspiration is a classic example of 'artistic transmission'.
The 18-year old Elmore was already an accomplished guitar player gigging around his home area of the southern Delta when he met Robert Johnson, who showed him how to play with a metal sleeve on his little finger.
Elmore also borrowed one of Robert's songs, 'I Believe I'll Dust My Broom', which became his breakthrough hit and life-long signature tune.
This fortunate meeting happened near Belzoni, MS where Elmore hung around with his buddy Rice Miller, who would himself go on to win world-wide acclaim as 'Sonny Boy Williamson II'.
In 1943 Elmore joined the Navy and on returning to Mississippi for Xmas 1945, he again took up with 'Sonny Boy II'.
They played gigs around the Delta and Memphis, and made broadcasts on The King Biscuit Radio Show out of Helena, where 'Sonny Boy' had a job as a DJ. Elmore did not exactly 'cut a dash' as a Blues performer: frail and suffering a recurrent heart complaint, he looked more like a schoolteacher in his big heavy glasses and conservative suits.
However, he had learned some electronics from working as a radio repair man, and he hot-wired his amps to give more power and distortion, so unlike most guitarists of the time, he really could 'turn it up to 11'!
This gave his slide guitar work a cutting edge which, with his impassioned, almost hysterical voice marked him out as a rare talent.
Elmore's 'signature tune' Dust My Broom;
Elmore's first hit version of 'Dust My Broom' was recorded without his knowledge in 1951, at the end of a studio session for Trumpet Records in Jackson MS where he was working on a track with 'Sonny Boy', who persuaded Elmore to run through his song just for fun, but kept the tapes running.
It was released without his permission (with a song by Bo Bo Thomas on the B-side), but quickly became an R&B Top-10 hit.
Joe Bihari signed Elmore to his Meteor Records label and they recorded in Chicago, where he formed his band 'The Broomdusters'.
They spent several years as a hugely popular live act, regularly broadcasting for 'Big Bill Hill' on WPOA, and making a series of very successful records.
These sessions gave us the distorted and extremely over-amplified slide sound we associate with Elmore James and which influenced almost every player who came after him.
Recommended Album
Listening to a Blues player as influential as Elmore, with so much of his sound filtering into the work of others, there is a certain familiarity, but the original tracks still make an unmistakable statement.
During this time Elmore often returned to the Delta to play and to visit friends, and perhaps that is why his music formed such a strong bridge between the soulful acoustic slide playing of his earliest influences and the brash urban sound of Chicago.
Successful as he was in the Windy City, Elmore's fame did not spread far beyond its borders except back in the Delta.
Perhaps wanting to expand his following, Elmore recorded some sessions for Chess Records in 1953 hoping to exploit its more established marketing organisation.
The Bihari Brothers jumped in waving their contract, and the tapes were canned until 1960, when Elmore recorded further tracks for Chess.
The Bihari's contract ran out in 1957 and after that Elmore recorded for a succession of labels including 'Chief', ' Enjoy' and most notably 'Fire'. This period gave us enduring classics such as ' It Hurts Me Too', 'The Sky is Crying' and the best versions of 'Dust My Broom'.
Elmore's 1955 hit 'Blues before Sunrise'.
Elmore James was at the height of his powers when he died from a massive heart-attack at his cousin 'Homesick James's apartment in Chicago in 1963.
If he had lived just a few more years he would have heard his unmistakable sound echoing through the work of Brian Jones in The Rolling Stones, Jeremy Spencer in Peter Green's Fleetwood Mac  and Rory Gallagher in Britain, and Duane Allman and Johnny Winter in the USA, and from there into the consciousness of every guitar player who ever picked up a bottleneck and started to wail.
Without doubt the 'artistic transmission' Elmore James's music carried forward from the long fingers of Robert Johnson was passed on to every swooping, weeping, soaring slide guitar solo we hear today.