RICE MILLER, SONNY BOY WILLIAMSON II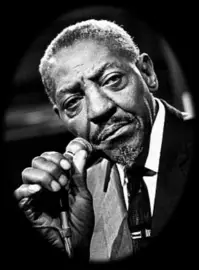 The man we know as 'Sonny Boy Williamson II', or Rice Miller, was born somewhere in Mississippi in 1899 (or 1897, or 1910 although newer sources say 1912) and his real name was Aleck (or Willie) Miller (or possibly Ford). Deception came easily to this man, so stories he told about his own past cannot be relied on. This tall, sly, grouchy con-artist, known for heavy drinking, wild gambling and chasing women, was prone to disappearing for weeks at a time when the mood took him. Such a difficult personality might find it hard to make his way in the world, but his astounding talent as a Blues harp innovator made his character defects easy to forgive.
Little is known about his early life, but in the mid-30s 'Rice' (a nick-name) could be found travelling around the Delta juke-joints in the company of guitarists like Robert Johnson, Robert Jr. Lockwood, Houston Stackhouse, Robert Nighthawk and Elmore James, and during this time he would often be billed as 'Little Boy Blue'. At this time he was married to the sister of Chester Burnett (a.k.a. Howlin' Wolf). In 1941, the Interstate Grocery Company decided to sponsor a lunchtime radio show on KFFA across the Mississippi from the Delta in Helena AK. Rice and Robert Jr. Lockwood were on the first edition of the 'King Biscuit Time' show, and the sponsor liked the idea of having a big name on the programme. John Lee 'Sonny Boy' Williamson was a big recording star hundreds of miles away in Chicago, so they audaciously claimed that the harp player was 'Sonny Boy Williamson'. He became a fixture on the show and they even produced 'Sonny Boy Cornmeal' with Rice's image on the sack. When John Lee was murdered in 1948, Rice asserted that he was 'The Original Sonny Boy Williamson' and continued what would become a 15 year residency on the King Biscuit Show. The pay was not good, but Rice would publicise his gigs on air, so he got big fees for playing live and would often arrive at the radio station hot from an all-nighter across the river.
'Sonny Boy II' wrote this classic song, which was his first hit;
'Sonny Boy II', as he became known, could not release records while John Lee was alive for fear of RCA's lawyers, but by 1951 the small Trumpet label, of Jackson MS in the southern Delta, began to record him. Their first release, 'Eyesight to the Blind' was a regional hit and this track, and other songs he wrote like 'Nine Below Zero', showed what a talent the world beyond KFFA radio had been missing. On his Trumpet recordings, Sonny Boy II revealed his mature, world-weary voice and his superb harp technique; long bending wails; sparkling showers of precise notes; beautifully phrased runs, masterly dynamics and a wildly off-centre sense of timing showed that those years when he was barred from recording had not been wasted. These sessions were often shared with Elmore James and Sonny Boy II persuaded him to play 'Dust My Broom' when Elmore didn't know the tapes were running, which resulted in his first hit too! Sonny Boy II made several visits to Detroit in 1954 where he recorded for the Blue Lake and Excello labels, before signing for Checker Records and becoming a fixture on the Chicago scene. At Chess Studios, Sonny Boy II was often joined by his old friend Robert Jr. Lockwood and this period gave us his memorable songs 'Help Me', 'One Way Out', 'Your Funeral, My Trial' and many others. He would often tour the South, and whenever he was in Helena he would take over the King Biscuit Show.
Memphis Slim introduces 'Sonny Boy II' to  European fans;
When the Folk/Blues Festivals began touring Europe in 1963, Sonny Boy II was keen to join the travelling show and his adoring reception, especially in London, persuaded him to stay. The British Blues Boom had spawned a circuit of clubs where Sonny Boy II could get all the gigs he wanted, and bands like The Animals and The Yardbirds with Eric Clapton were keen to record with him. Many TV appearances, especially when the annual Festivals came to Europe, made Sonny Boy II a star and he played up to the image. He wore strange harlequin suits with a bowler (derby) hat and umbrella and he astounded audiences with his big bag of juke-joint tricks. He would play the harp by popping it in his mouth and leading the hand-claps; he played two harps at once; he played through his nose and generally blew lines of such soulful virtuosity that people stared in disbelief.
One of the last tracks Sonny Boy II recorded in Britain was 'I'm Trying to Make My Home in London' with the young Jimmy page on guitar, and he returned to Chicago to record briefly for Chess in early 1965. Sonny Boy then went back to Helena to take over The King Biscuit Radio Show again, where he worked until the day he died, on May 25 th of that year. The man who formed the link between the Robert Johnson era and the Led Zeppelin generation was gone.