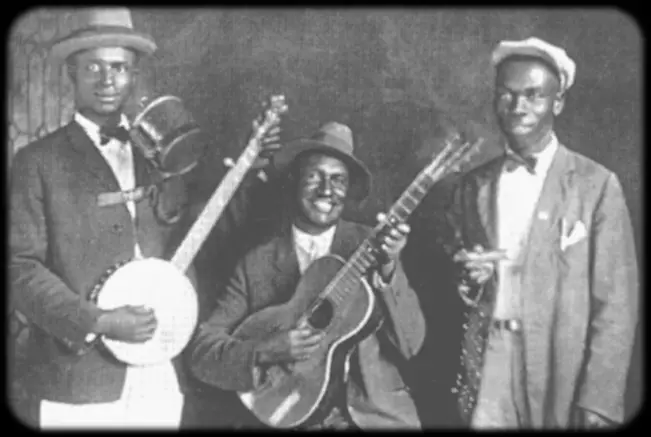 Noah Lewis was a Memphis harp maestro whose stylish playing, showmanship and sheer volume set the standard for harp players during the Memphis Jug Band craze of the late 20s. Noah came to Memphis from Henning TN as a teenager accompanied by another boy, singer/guitarist Ashley Thompson. They met banjo player Gus Cannon and the trio would play on the streets of Memphis and occasionally join a travelling medicine show or make a tour of the Delta juke-joints. When Will Shade formed his Memphis Jug Band in 1927, Gus and the boys formed a rival group called The Jug Stompers and recorded several hits for the Victor label. Noah was a featured soloist with the Stompers, with his fluid tone, astonishing breath control and tricks like playing two harps at once, one blown through his nose!
In 1929, Noah cut three instrumentals and a vocal effort 'Going to Germany' as a solo artist. The following year, he cut another four tracks leading the Noah Lewis Jug Band with guitarist
Sleepy John Estes
and Yank Rachell on mandolin. When the Jug Bands began to lose their popularity, Noah went back to playing in the streets again, eventually making his way to Ripley TN. He lived there until he died in 1961, from gangrene brought on by frostbite.
Harp solo from the 1929 sessions;