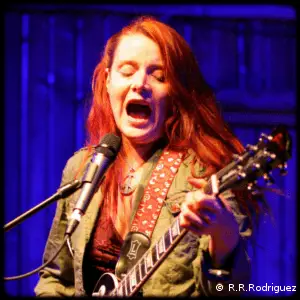 Carolyn Wonderland carries the torch for modern Texas Blues in fine style. With an excellent slide-guitar technique, a talent for perceptive songwriting and a voice that recalls a young Janis Joplin, she is a multi-instrumentalist with a social conscience. Carolyn has played Blues clubs for more than twenty years and at many Blues Festivals in Europe and The States, collaborating on several other music projects as she spreads the word in her own unique style.
Born in 1972 in Houston, Texas, Carolyn Bradford played her mother's guitar as a girl, also inheriting a fine voice, and she still uses that 30's Martin to compose her music. An unusual talent for whistling led to Carolyn developing a skill for bird-calling, as well as lap-steel guitar, mandolin, piano, accordion and trumpet. When she was 15, Carolyn started playing gigs in Houston, inspired by Texas legends like
Doug Sahm
, The Fabulous Thunderbirds and
Stevie Ray Vaughan
. Four years later, she was appearing at
Antone
's and soon formed her band The Imperial Monkeys under her new name of Carolyn Wonderland. Their first album in 1993, 'Groove Milk' was followed by 'Truckstop Favourites', 'Play With Matches', 'Blue Lights' and 'Bursting with Flavor'. The Imperial Monkeys' reputation spread beyond their home state, and they played the Sturgis Motorcycle Festival for ten consecutive years.
Carolyn renders a Council Meeting speechless in 1993.
Carolyn began to concentrate on a solo career after she relocated to Austin in 1999, touring relentlessly before making her album 'Alcohol and Salvation' two years later. She also collaborated with Rebecca Cole on the 'Drink the Rain' record, sang with The Band of Wonder on the album 'Texistentialism', worked with Papa Mali as part of the Loose Affiliation of Saints and Sinners, played guitar with the all-girl band, Sis deVille and found time to help start the Austin Volunteer Orchestra. Following her 'Bloodless Revolution' album of 2003, she took her band and 20 fans to Amsterdam to celebrate her birthday and play some gigs. It was a massive success, as the following year more fans made the trip, and it became something of an annual extravaganza, centred around the Maloe Melo Club, that was repeated many times.
Carolyn plays Janis Joplin's, 'What Good Can Drinkin Do?'
Ray Benson of Asleep at the Wheel produced Carolyn's 2008 album 'Miss Understood', and it attracted the attention of Bob Dylan and many others. She has become a well respected artist at Blues Festivals around the world, with her hard-edged guitar and soulful vocals. Her latest album 'Peace Meal' was partly produced by Mike Nesmith, the musician made famous in the 60s pop band The Monkees, who was also the ordained Minister that presided at Carolyn's wedding to comedian A Whitney Brown in 2011.