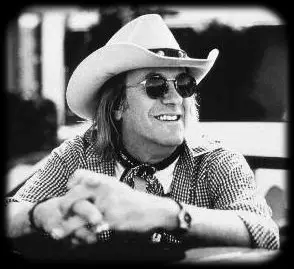 Little Douglas Wayne Sahm got started by playing steel guitar on a San Antonio radio station when he was just five years old. As a teenager Doug recorded for various small Texas labels and formed a gigging band called The Pharoahs, and in 1965, producer Huey Meaux encouraged him to form The Sir Douglas Quintet, pretending they were a British band to exploit the popularity of new music from across the pond. With Doug playing violin and guitar alongside Augie Meyer's keyboards, and with sax, bass and drums, the band had hits with 'She's About a Mover' and The Rains Came', which were Top Twenty records on both sides of the Atlantic. When the project stalled, Doug moved to the West-coast, playing the club scene in San Francisco, where he eventually re-formed the SDQ with Meyer. Success with the single and album, 'Mendocino' in 1968 got them a deal with Atlantic Records and Doug moved his base again, this time to New York City.
An early Doug Sahm rocker, billed as 'Him', for some reason!
In 1973 he cut 'Doug Sahm and Band' with contributions from Bob Dylan, Dr. John and Flaco Jimenez, and the following year made 'Groover's Paradise', mixing country music and Blues with a taste of cajun and Tex-Mex. Doug's 'Hell of a Spell' in 1980 was a Blues album dedicated to Guitar Slim, and his enduring popularity in Europe led him to sign for Swedish roots label Sonet.
In 1990, Doug formed the Tex-Mex 'supergroup' The Texas Tornadoes with Augie Myers, Flaco Jimenez and Freddie Fender, winning a Grammy. He made another Grammy winning album 'The Last Real Texas Blues Band' in 1994 and then re-formed the Sir Douglas Quintet for SDQ 98 on the Watermelon label. The following year, Doug passed away from a heart-attack in New Mexico.