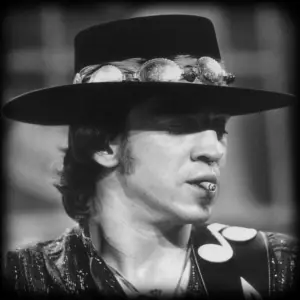 In the early 80's, the Blues had dropped from popular view again, but nobody did more to pick it up and shove it in people's faces than Stevie Ray Vaughan. His bold, fiery leadership of power trio Double Trouble invited comparison with Hendrix, but his deep empathy for the Blues made guitar heroes and old-school legends united in their praise. There are not many eight-year-olds who can pick out a Jimmy Reed song on a half size guitar, but Stevie Ray could. His dad bought him a Sears guitar, and his big brother Jimmie gave the kid a role model, by playing Rockin' Texas Roadhouse Blues in the local bars.

Jimmie also left his Blues records lying around for his kid brother to learn to copy, so Stevie Ray was exposed to the
Delta
and
Chicago
legends as well as more contemporary players like
Buddy Guy
and
Jimi Hendrix
. In the early 70's, brother Jimmie was getting a local reputation with his band The Fabulous Thunderbirds, so Stevie Ray followed him by leaving school to form The Cobras, who played bars around the student scene in Austin. In 1975 he formed Triple Threat, and when singer
Lou Ann Barton
left in 1978, Stevie Ray took over vocals and they changed the name to Double Trouble. His abrasive tone and that laconic Texas drawl hidden down in his delivery gave Stevie Ray's voice a unique and authentic Blues quality.
Stevie Ray and the boys lay down a version of 'Hideaway' at the Montreux Festival;
Double Trouble's growing reputation around Texas was enhanced when a tape of their set found its way to the ears of Mick Jagger in New York. He hired the band to play a private party and off the back of that, in 1982, Double Trouble were booked to appear at the Montreux Festival in Switzerland. Stevie Ray's assured performance and considerable talent for eloquent Blues licks made sure their hard rocking set attracted a lot of attention. When Jackson Browne heard that the band did not have a record deal, he offered them free studio time in LA. David Bowie grabbed Stevie Ray for his new 'Let's Dance' project, and he appeared on the video, the album and the subsequent major tour. Back in LA, the band used that studio time to good effect, quickly putting down their well-honed material. Stevie Ray had to turn down Bowie's further offers to concentrate on his own work as John Hammond Sr. got them a deal with Epic Records, and 'Texas Flood' was released in June 1983.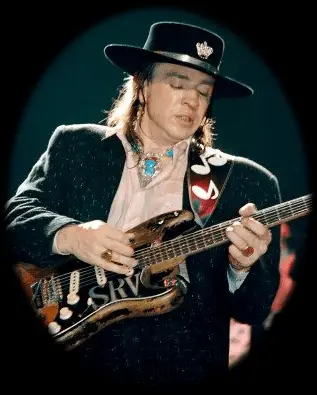 'Texas Flood' brought the band to public attention, with hit singles 'Pride and Joy' and 'Love Struck Baby'. The next album 'Couldn't Stand the Weather' sold well, and in December 1984, Stevie Ray played a sold out 30th Birthday gig at Carnegie Hall with Dr. John, Jimmie Vaughan and the Roomful of Blues Horns. The addition of Reese Wynans keyboards and Joe Sublett's sax introduced new flavours of jazz and R&B to 1985 album 'Soul to Soul' but the hard core of Blues was still at its heart. Again the album sold well, with singles 'Change It' and 'Look at Little Sister' both making the rock Top 20. Stevie Ray's career was really taking off, as Double Trouble toured Australia and NZ with The Thunderbirds and played the Montreux Festival again. This concert, along with a series of gigs in Austen, provided the tracks for 'Live Alive' in Nov 1986.
After an intensive schedule of touring to promote the album, Stevie Ray's problems with substance abuse became apparent. He had developed a huge capacity for booze and his consumption of cocaine reached danger levels. He checked into rehab, and the band went quiet for over a year. Stevie Ray emerged from his ordeal sober and healthy: he began playing a few gigs and preparing for his next album. 'New Step' developed Stevie Ray's songwriting talents to the full, with intensely personal tracks like 'Tightrope' and 'Wall of Denial' exploring the Soul/Blues borderlands. Blistering tracks like 'Travis Walk' and 'Scratch'n'Sniff' showed he had not lost his edge.
Stevie Ray and Jimmie had long planned to record together, and 1990 brought the project to fruition with Family Style, but before the album was released, Stevie Ray was killed in a helicopter crash shortly after coming offstage on August 26th. He had just played a gig at Alpine Valley Wisconsin, which featured an encore jam with Eric Clapton, Buddy Guy, Robert Cray and his brother Jimmie. That proved to be his swan-song, and it's difficult to think of a bigger high to go out on. His friends, including the men that shared that last stage with him, played a concert in his honour the following year.
This great video combines the soundtrack from Stevie Ray's last performance in August 1990 with video from the later tribute gig, and footage of SRV from an earlier concert in Austin;