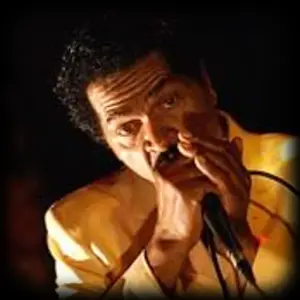 Bobby Rush is best known as an outlandish Soul singer on the nightclub scene, but his roots are deep in the Blues. He started out playing guitar and harp with some Chicago legends, and after a long time on the road, getting on for thirty albums and a lot of funky music, his later records show where his heart truly lies.
Emmit Ellis Jr. was born in Homer LA in 1940, the son of a pastor, and he grew up in Pine Bluff AK. The family relocated to Chicago in 1953, and by the end of the decade he was playing guitar in the West-side clubs.
He learned his chops playing with
Luther Allison
and
Freddie King
, developing his trademark 'cracked' vocal style and taking the name Bobby Rush. Bobby then returned south to make a good living for many years on the 'chitlin circuit' with a repertoire of bawdy Soul/Blues music, full of double-entendres. He had his first hit with his song 'Chicken Heads' on the Galaxy label in 1971, and followed it with another R&B Chart hit, 'Bow-Legged Woman'. In 1979, Bobby's first album 'Rush Hour' was produced by Philly Soul men Gamble and Huff, and during the 80s, he progressed in his wild, funky career with albums like 'Gotta Have Money' and 'What's Good for the Goose is Good for the Gander', including some pretty explicit material.
Bobby gives up some real deep Blues on 'HooDoo Man';
In 1991, Bobby signed for the Ichiban subsidiary Urgent!, producing more funk, and in the mid-90s he switched to Waldoxy and moved back to Soul/Blues with albums like 'One Monkey Don't Stop the Show' and 'Hoochie Man'. After a horrific bus crash in 2001, which took the life of Latisha Brown, Bobby was out of circulation for a good while. He returned in 2003, then launched his own label, Deep Rush, enlisting guitarist Alvin 'Youngblood' Hart on his 'Folk Funk' album, and appearing in an episode of Martin Scorsese's series 'The Blues'. Bobby also relaunched his roadshow, with lots of booty-shaking dancers and salacious songs, but his records have moved back towards the Blues. 'Hen Pecked' in 2005 and 'Look What You're Getting' have a lot of macho posturing, but 'Raw' and his latest 'Down in Louisiana', is more like a stripped down Delta style crossed with Swamp-Blues, with just a hint of Bobby's funky soul. He continues to put on a great live show, giving his club audiences a very politically incorrect night out, and regularly gives the Festival crowds a bit of a shock! A recent album/DVD recorded with the band, BlindDog Smokin' and guest Dr. John is a fine example of Bobby's good-time music.