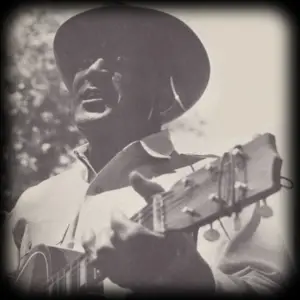 William Carradine was born in Garden city LA in 1896, so he was quite an old man when he encountered Fred Ramsay, one of the earliest and most enthusiastic of the young music researchers who travelled the South with their recording equipment, looking for the originators of the Blues. Fred was in Natchez MS in 1957 when he met a sax-player, Thermond Monroe, who told him about an old guy who lived in the slum district of Buckner's Alley, who was a good singer. Near a place called Tin Can Alley they found William in his shack, but he wasn't interested in singing the Blues for them, because he had taken to religion and forsworn "the Devil's music". He didn't even have a guitar, but when Thermond borrowed one from a neighbour, William began to sing his Gospel tunes and 'spirituals'. Eventually he was persuaded to sing some Blues songs, and six of these appeared on a Folkways album, alongside some of his religious numbers.
[div class="myadds"]
[/div]
Cat Iron's much covered song 'Jimmy Bell';
[stextbox id="custom" caption="Recommended Album" float="true" align="left" width="300″]This is a lovely example of high quality field recording, with powerful, passionate singing and some fine fingerpicking slide-guitar.
CAT IRON SINGS BLUES AND HYMNS
[/stextbox]Fred must have mis-heard William's surname, so when the album was released, it was credited to 'Cat Iron', giving it a name as enigmatic as the artist himself. Most of the Blues tracks were traditional numbers, and William's widow Fannie recalled that he had a wide repertoire of old songs, including ballads about a tornado in 1840, and a dance-hall fire in the 30s, which he would sing when he would play for tips on the streetcorners of Natchez. It is doubtful whether William ever heard his Cat Iron album, as he passed away in 1958, when the record was released, which is a pity as he had a fine voice and a delicate guitar style.