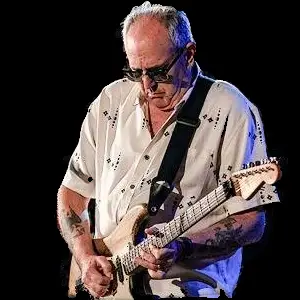 There are many spectacular guitar players, using many diverse styles and countless hours are spent debating which is best (a pointless exercise as Kenyan, Columbian, Blue Mountain and Black Ivory are all excellent coffees, and which is 'best' is just a matter of taste.) Jimmy Thackery has built a long career on his wide-ranging guitar skills, covering Blues, Jazz, Rockabilly and some things that don't have a name yet! He was good enough to attract the attention of Muddy Waters, no less, then founded a long-running band and went on to front a well-respected trio where he can show his chops, as he explores the outer reaches of guitar technique.
Born in Philadelphia in 1953, Jimmy Thackery started playing guitar with a school band alongside his friend David, who is
Bonnie Raitt
's brother. Inspired by attending
Buddy Guy
and
Jimi Hendrix
concerts, Jimmy started to take his playing very seriously, and at the age of 20 he was co-founder of the successful, hard-touring Washington DC band The Nighthawks, who are still going strong after 40-odd years incidentally. Fourteen years on the road with that band saw Jimmy singing and playing lead guitar on 20 albums, including 'Jacks & Kings' in 1977 alongside
Pinetop Perkins
,
Bob Margolin
and
Luther 'Guitar Junior' Johnson
. Feeling the need to find a platform for his own material, Jimmy formed The Assassins in 1987, and this six-piece Blues-rock band toured the country relentlessly for five years releasing a couple of vinyl albums and a CD as digital technology came along.
Jimmy and the Drivers perform 'Hobart's Blues;

Jimmy's confident manner with a
Fender
and a decent Blues voice were the essential tools required to set up his band The Drivers, where he could stretch out and explore his guitar innovations in a flexible trio form. Much of Jimmy's live set consists of 10-minute variations on a theme, mostly self-written, and it is huge credit to his virtuoso technique that interest never wanes. All Jimmy's work centres around his phenomenally versatile guitar style, which is deeply rooted in the Blues, but able to incorporate twangy 'surf' tones, 'film-noir' themes and Pink-Floyd-like dreamy sequences. Beginning with 'Empty Arms Motel', his 1992 debut album with The Drivers, Jimmy has pretty much maintained an album release every year, and this has included collaborations with David Raitt,
John Mooney
, and an excellent album with
Tab Benoit
.
There have been a couple of recent changes in the long-standing line-up of The Drivers, as bassist 'Bumpy Rhoades' Bumgarner has been forced to retire for health reasons, replaced by Rick Knapp from
Walter Trout
's Free Radicals, and drummer George Shepherd is out for a while after shoulder surgery. Jimmy will keep on Driving, as he continues to fascinate audiences on the club scene and the Festival circuit with his mature, thoughtful music, so rich in spectacular runs and subtle phrases.