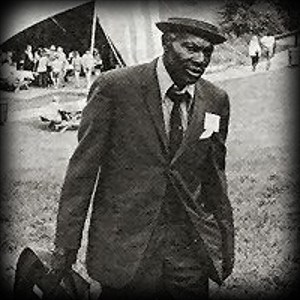 Some Blues players like BB King and John Lee Hooker made it from the plantation to the world stage, but some other great Blues talents never get heard outside their local district. Earl Bell had all the attributes to make him a star, but he had the misfortune of being born at the wrong time, missing the early field-recording units that were always in Memphis in the late 20s, and coming into his own in the 30s when nobody was buying Blues records. When the Country Blues was suddenly popular in the 60s, Earl wasn't picked up by a major record company, but the quality of the songs he cut in his home town show that, no matter how good your voice, your playing and your songwriting, simply having the talent is not enough.
In 1914, Earl was born into a highly religious family in Hernando MS in the
Mississippi Delta
. He started out playing a 'diddley bo' on the back porch, but when he finally got a guitar he was in the fortunate position of having Blues players of the calibre of
Robert Wilkins
, Garfield Akers and
Joe Calilcott
share his hometown, and
Frank Stokes
and Dan Sane as frequent visitors. Surrounded by this talent, Earl picked up some fine, rhythmic guitar technique, wrote his first song 'Stella Girl' about his big brother's date, and was soon travelling around the juke-joints with the young
Robert Johnson
. Earl claimed to have co-written 'Terraplane Blues', and his compositional skills certainly extended to a large repertoire of original songs, which he delivered in a fine, clear voice. He later wandered all over the South with harp player Morris Johnson, but after WWII his regular harp playing partner was Marshall Jones, who was also known as 'Memphis Sonny Boy'. Marshall had a shoe-shine stand on the corner of Beale and Hernando Streets, so the guys had a great pitch when they played the Blues for tips.
Earl runs through five great Blues songs, including his version of 'Terraplane Blues';
The Folk/Blues revival of the late 50s and early 60s saw many young researchers combing the South for originators of the Blues, and the fifty-year-old Earl recorded seven tracks for a Swedish radio station which emerged later on the Jefferson label. Local musicologist George Mitchell also got Earl in front of a microphone in 1967, and as well as six of Earl's solo tracks, some with
Furry Lewis
on 'second guitar', several songs by bassist Dewey Corley were accompanied by Earl's delicate playing. Dewey and Earl were re-united for the Memphis Cotton Festival in 1970, which yielded a live album. Perhaps Earl's best work was recorded at the Peabody Hotel when he played with his old friend 'Memphis Sonny Boy' Jones, who sadly passed away a few months afterwards. Earl continued to play gigs around the district, and perhaps his best known song 'Travelin' Blues' was recorded at the Memphis Blues Caravan event in 1974, but sadly Earl passed away three years later.