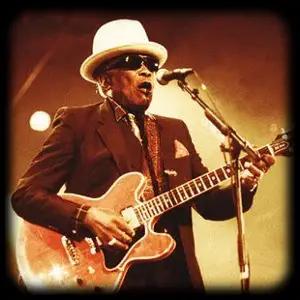 The Blues player sits alone, his heavy right shoe stomping out a relentless beat that makes the bottle of Chivas Regal dance on the boards by his feet. He rips out vicious guitar lines full of bitterness and pain, while keeping up a solid, throbbing rhythm. His voice is rich, deep and weatherbeaten, dripping with a smouldering sexuality, hard experience and good whisky. The man comes from Clarksdale Mississippi, and his name is John Lee Hooker. John Lee's career is an exact replica of the story of the Blues itself. Born in the Delta, he moved to the city, where he enjoyed a Golden Age in the post-war years, and when popularity began to wane in America, he was taken up by British musicians. John Lee has inspired and collaborated with younger players ever since, going on to achieve worldwide legendary status.

As a boy John Lee sang in church, so when he moved to
Memphis
and on to Cincinnati as a young man, he sang with
Gospel
groups like the Fairfield Four and the Big Six. He played guitar on the streets and at parties and eventually in 1943 he moved to Detroit where he began to make his reputation in the booming club scene. In 1948 John Lee recorded 'Boogie Chillun' for the
Bihari Bros.
Modern Records, which is a classic of its kind and went to No.1 in the R&B charts. In a one-chord boogie, typical of the Mississippi hill country,  Hooker lays down a hypnotic rhythm that he uses to underscore the cries and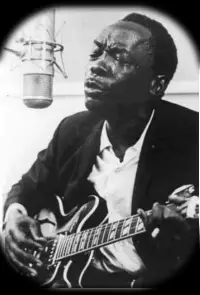 hollers that combine to compel the listener to move their feet. John Lee's music has elements of the country blues he would have heard in his home town, but it also captures a dark, edgy urban feel and, like all Hooker's work, it has a time structure known only to himself! The following year, Modern released another classic, 'Crawlin' Kingsnake', and later John Lee's biggest hit, 'I'm in the Mood'. He also recorded under many pseudonyms on at least four labels during the early 50's, but struck up a relationship with
Chess Records
from 1952-54. He toured with
Muddy Waters
and built up his reputation as a unique stylist of crossover country/urban blues, who was equally at home with electric or acoustic guitars.
Fantastic film of John Lee's intense, visceral style;
The Vee-Jay label signed John Lee, and they had many hits over the next eight years, most notably 'Dimples' in 1956 and 'Boom Boom' in 1962. These songs were hugely influential in the
British Blues
scene; both were extensively covered and much imitated. John Lee toured Europe in 1962 and returned every year until 1969. He inspired a new generation of players who picked up on his intense, archaic guitar figures and infectious boogies. In 1970 John Lee relocated from Detroit to Oakland, leading to his collaboration with
West-coast
Blues band Canned Heat. They put out a double album 'Hooker n Heat', which sold very well and further spread John Lee's reputation as a Blues legend.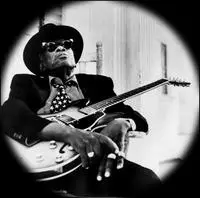 Straight Blues suffered a decline in popularity from the mid-70's and although John Lee continued to play gigs, like all the originals he faded into the background. This changed in 1989 with the release of 'The Healer'. This worldwide best-selling album featured John Lee playing with his long-time admirers Carlos Santana, Bonnie Raitt, Robert Cray, George Thorogood, Charlie Musselwhite and others. It won a Grammy, John Lee was inducted into the Rock'n'Roll Hall of Fame, and a huge tribute concert was held at Madison Square Gardens with a roster of A-list music stars. The following year he recorded 'Mr. Lucky' with Van Morrison, Keith Richards, Ry Cooder, Carlos Santana, Johnny Winter and John Hammond Jr. and again had massive worldwide success. His 1997 album 'Don't Look Back' contained some new songs, and he was still gigging until the day before he passed on in 2001.
Bonnie Raitt tries to follow John's timing!
There is no-one else that has lived a life so closely mirroring the development of this obscure regional folk music, stretching from the Delta to the Digital age.