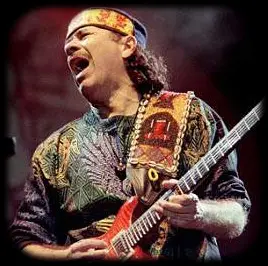 If "Blues is the roots and other music is the fruits", (to quote Willie Dixon) then Carlos Santana's music might be a strawberry/melon/mango hybrid; a rich blend of flavours with plenty of juice. From the heyday of experimental 60s San Francisco Blues bands to jazz-fusion, devotional music, Latin grooves and monster selling collaborations, Carlos has done it all. The signature guitar tone he produces on all his work has a quality that is instantly recognisable, and his compositions for guitar have explored and incorporated a vast range of musical influences.

Carlos was born in Jalisco, Mexico in 1947 and learned violin while he was in primary school. The Santanas moved to Tijuana, where Carlos studied guitar under Javier Batiz and eventually the family settled in San Francisco, where Carlos graduated from High School. Turning his back on College, he was determined to make it as a musician. He was heavily influenced by
John Lee Hooker
,
BB King
and
British Blues
, especially the guitar sound of
Peter Green
. Crucially, he had an encounter with
Mike Bloomfield
in San Francisco that convinced the teenaged Carlos he was doing the right thing.
The Santana Blues band was booked into the Fillmore West by Bill Graham at the end of 1968, and a record deal with Columbia followed. Just as their first album came out, the band played a molten-hot set at the Woodstock Festival, and the album stayed in the charts for two years. Heavy Latin and African rhythms characterised the first three Santana albums, all of which were worldwide hits, but their hit single 'Black Magic Woman', a masterful fusion of Latin Blues, showed how adaptable the Blues form can be.
Early version of 'Black Magic Woman';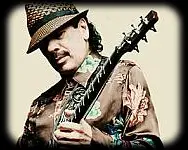 The fourth album, 'Caravanserai' signalled a change of direction and personnel with some wonderfully ethereal music, and around then Carlos went through some changes himself. He married Deborah, the daughter of Bluesman Saunders King, and his interest in Buddhism led to him being known as 'Devadip' and recording a devotional album with the Manavishnu Orchestra alongside John McLaughlin and some serious jazz players. An even jazzier album, 'Illuminations', emerged from a collaboration with pianist Alice Coltrane (widow of John). The late 70s saw Carlos turning to funk with a Latin edge, although his 1980 album 'Swing of Delight' with the four guys from Miles Davis Quintet was steeped in jazz. It also had three compositions by Carlos' guru Sri Chinmoy, but they parted company shortly afterwards over his objection to Carlos and Deborah starting a family.
Performing 'The Healer' with John Lee Hooker;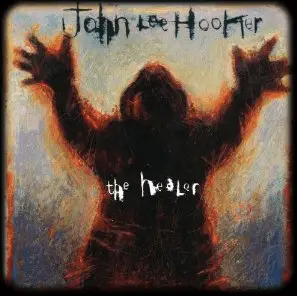 The next two decades saw Santana touring the world as one of the biggest arena bands around, but album sales, of both Carlos' solo projects and of the band Santana, were not huge. Carlos made a memorable contribution to John Lee Hooker's 1989 album 'The Healer', where stars like Bonnie Raitt, Robert Cray, Charlie Musselwhite and George Thorogood paid homage to the man who had influenced them so profoundly, and also helped to re-launch John Lee's career. Carlos pulled the same trick himself ten years later with 'Supernatural', where Dave Matthews, Eric Clapton, Lauren Hill, Rob Thomas and Everlast showed how wide Carlos' influence had spread. The album won nine Grammys and re-established Carlos on the A-list. Further collaborations, 'Shaman' in 2002 and 'Possibilities' in 2005 were a little less successful, but continued to expose Carlos' work to new audiences. Carlos and his band Santana relentlessly tours the world, although he spent most of 2011 in Vegas, and his 2010 album, 'Guitar Heaven' was a Top Twenty album chart entry in twelve countries, peaking on Billboard at Number 5.
This music is "full of kindness and tequilla". Not a bad formula!
With a roomful of Grammys, gold and platinum discs, and countless awards, Carlos has made a huge contribution to music over a span of six decades. He brought Latin flavours to his Blues band and took it forward into rock, jazz, funk and world music. That's a very fruitful career!