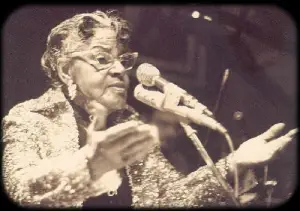 Irene Gibbons was born in St. Louis, but by the time she recorded her first Blues songs for the Black Swan label in New York in 1922, she had already had a long career. She toured with vaudeville troupes in the USA, Europe and the South Pacific beginning as a 3-year-old child. When she got back, she had adopted the stage name Eva Taylor, and her obvious talent as a performer brought her to the attention of Black Swan Records' owner Harry Pace who was looking for a 'Blues Diva' to exploit the new market for 'race music'. They billed her as 'The Dixie Nightingale' and she was one of their best selling acts, but she was lured to Okeh Records in late 1923, where she released the first 12-inch Blues record.
She married singer and bandleader
Clarence Williams
and they became fixtures on the Harlem scene throughout the 20s. Eva had her own NBC radio programme in the 20s, and she continued to record for the Okeh and Bluebird labels. Her repertoire always included elements of jazz, and in the 30s she continued her career as a cabaret star. She retired from performing, but when Clarence died in the sixties, Eva made occasional appearances to show contemporary audiences what a Blues Diva sounded like.
Eva sold a lot of records in 1923;