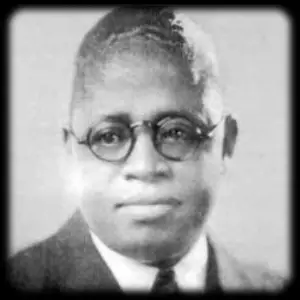 New York was the centre of Blues Recording in the early 20s, as the new 'Race Music' market opened up recording opportunities for black singers and musicians. Writer, producer, publisher and session pianist Clarence Williams was a big noise in the New York industry during those early years, marrying a star singer, recording with the biggest names in the business, and writing songs that were the best sellers of the day. He went on to a long career on the cabaret stage with his wife, as a solo performer and as manager for other artists.
Clarence Williams was born in 1893 in Plaquemine LA, but he ran away from home with a Minstrel Show when he was 12. He developed into a singer and MC with the show, then settled in New Orleans where he learned piano and started composing his own tunes. Clarence's skills as a composer and arranger kept him busy in the vaudeville houses and dance halls of Storyville, but when it was closed down by the US Navy during WWI, he went on tour with
WC Handy
's Orchestra. With bandleader Armand J Piron, Clarence set up a music publishing company based in
Chicago
, but they soon relocated to New York, at the heart of the action. Clarence also worked as a producer and session musician for Okeh Records and in 1921 married one of Okeh's star Blues Divas,
Eva Taylor.
They were to go on to perform and record together on the Harlem club scene for two decades.
Clarence performs 'You Rascal You', which he also published;
Clarence was a very successful writer, and his 'Gulf Coast Blues' was the first song recorded by Bessie Smith, which also featured Clarence on piano. He also wrote 'Baby, Won't You Please Come Home', 'Shout Sister, Shout' and added lyrics to Louis Armstrong's 'West End Blues'. He also wrote and performed with the comedy 'hokum Blues' duo Butterbeans and Susie', and also acted as manager for several artists, while always on the lookout for talent to sign to Okeh. Clarence made some records as a singer, and led his own bands around the club scene, including The Blue Five and later The Jazz Kings and The Washboard Band. He was in constant demand as an arranger and session pianist, recording with Louis, King Oliver, Sara Martin and Josh White among many others.
During the Depression years, Clarence performed with his wife in the Harlem clubs, and when record sales began to pick up in 1935, he signed as a solo artist for Vocalion Records and continued a successful writing career. By the end of WWII, Clarence had retired from the music scene and in 1956 he was hit by a NY taxi. His health never returned and he went blind before passing away ten years later.