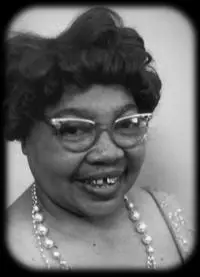 Sippie Wallace knew about the Blues because she was part of its roots. She was one of the original Blues Divas; a talented young songwriter, a riveting performer and a most respected artist who became a best-seller in the early days of 'race music',  but she also knew about the suffering and loss that gives the Blues its heart and soul.
Beaulah Thomas was born in 1898, the daughter of a Baptist Deacon in Houston, Texas. She would sing in the church choir, but she would also sneak away with her older brother to see the 'tent shows' that spread the Blues across the South in the repertoire of future superstars like Ma Rainey and Bessie Smith.

Soon she had a job singing with the shows and, when she was 17, Beaulah went to New Orleans to sing with some of the jazz greats, like King Oliver and
Louis Armstrong
. Her brothers, George and little Hersal went too, and they proved to be a talented family, as both boys would go on to become great pianists and composers. Two years later Beaulah had met and married Matt Wallace, a pianist, composer and bandleader and together they played the TOBA circuit of Southern theatres, where she was billed as 'Sippie' Wallace, 'The Texas Nightingale'.
Sippie the Blues Diva with 'Devil Dance Blues';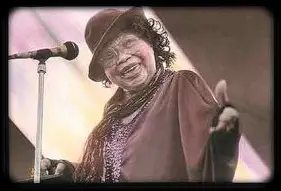 In 1923, Sippie, Matt and the two boys moved to Chicago, where Sippie was snapped up by Okeh Records, along with her fellow Texan, Victoria Spivey. Her first recordings, 'Shorty George' and 'Up the Country Blues' made her one of Okeh's most popular Blues Divas, and she went on to release 44 songs in the next five years. Sippie and her husband and brothers were a great team, writing between them 31 of those songs with the guys also performing on most of them. Other side-men included King Oliver, Louis Armstrong, Sidney Bechet and Perry Bradford. However, tragedy struck in 1926 when her young brother Hersal died from food poisoning. Although only 16 at the time, he had already taken full credit for writing five of Sippie's records; had been her sole accompanist on some tracks, and been cited by the young Albert Ammons as a brilliant and influential pianist. One of Sippie's most enduring records was also released in 1926; 'Mighty Tight Woman' was a big hit and she re-recorded it in 1929 after Tampa Red had an even bigger hit with his 'Tight Like That', sparking a craze for suggestive 'hokum' Blues records.
'Mighty Tight Woman' is a classic 'hokum' blues;
Sippie was unable to get over her brother's death so she and Matt moved to Detroit in 1929. When Matt died in 1936 and her brother George was killed in an auto accident the same year, Sippie was a broken woman. Stricken with grief, she found solace in religion and she played the organ in Leland Baptist Church in Detroit for the next thirty years. She did not perform in public and her only recordings were two tracks where she sang with
Lonnie Johnson
and Albert Ammons in 1945. Sippie was coaxed out of retirement in 1966 by her old friend Victoria Spivey. They recorded an album of duets together, and then a solo album appeared, 'Sippie Sings the Blues' with
Roosevelt Sykes
and
Little Brother Montgomery
sharing piano duties. The same year, she also cut a live album on Halloween night in Copenhagen, with the same side-men, that showed the warmth and passion she brought to the stage.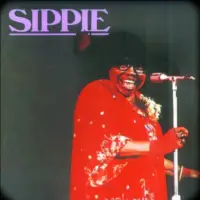 The Blues Festivals loved Sippie, but in 1970 she suffered a stroke and it took her some time to recover. Eventually she showed her determination and resilience by returning to the stage and the studio. She shared the stage with BB King at the Montreux Festival in 1982 and also in that year Bonnie Raitt, one of Sippie's greatest admirers, got her a deal with Atlantic Records. Bonnie produced and played on the album 'Sippie', which won a Handy Award and was nominated for a Grammy. This proved to be Sippie's last record. She died in Detroit on her 88th Birthday after having suffered another stroke backstage at a concert in Germany.