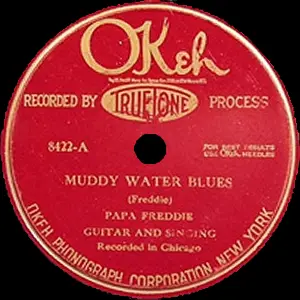 Often cited as the first Delta Bluesman to make a record, Freddie Spruell cut his 'Milk Cow Blues' c/w 'Muddy Water Blues' on June 25th 1926 in Chicago. After a brief career with the Okeh label, 'Papa Freddie' or 'Mr. Freddie' made several more records in 1935 for Bluebird, but his total output came to only 10 songs.
Freddie Spruell was born in rural Louisiana in 1893, but his family relocated to Chicago when he was a child. He was a fine singer with a clear, piercing voice to go with his 12-string guitar playing, and a good handle on how to write a Blues song, but his links to the Delta were probably limited to watching it pass by the window of a train or riverboat when he was a kid. Nevertheless, Papa Freddie was invited back to Okeh's studio in November to record his 'Way Back Home', which was issued with the same cut of 'Muddy Water' on the flip-side as his first release. In 1928, 'Tom Cat Blues' and 'Low-Down Mississippi Bottom Man' appeared on another record by 'Mr. Freddie', on the Paramount label, but that was to be his last release before the economic crash devastated record sales the following year.

 'Muddy Water Blues' was a very early Blues songs;
In 1935, Freddie came to the attention of
Lester Melrose
, and in April he was at Bluebird's studio where he cut five tracks as 'Mr. Freddie'. These were all released, one with a song by Chasey 'Kokomo' Collins on the B-side, and Freddie was probably a guest guitarist on songs by
Washboard Sam
and Sugar Cane Johnny which were recorded on the same day. That concluded Freddie's known activities, but it seems his mother made him give up singing the Blues in the 40s, and he was ordained as a Baptist Minister soon after. He passed away in Chicago, after a protracted illness, in 1956.