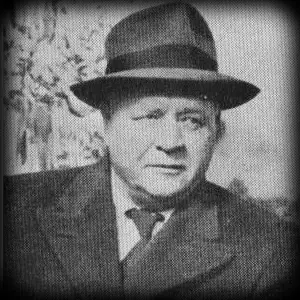 Lester Melrose was undoubtedly the most important producer of urban Blues in Chicago from the mid-20s into the post-War years. He pioneered the use of a house-band to give a consistently high quality of accompaniment to his featured artists, and his skill as an A&R man uncovered a wealth of talent in the Windy City. He also made himself rich by assigning himself the composing credits to over 3,000 songs, despite being unable to write or play a single line of music.
Born in rural Illinois in 1891, Lester moved to
Chicago
in 1914 to try out for the White Sox baseball team, but that didn't pan out. After working in retail, he set up a music store with his brother Walter and others, starting a publishing company as a sideline, as sheet-music was the pre-eminent medium for music distribution in the early 20s. Lester sold his share of the business in 1925 and set out as a freelance talent scout and A&R man for various record companies, acquainting young talented Blues musicians from the South with his friends in the record business, who were eager to find new talent for the growing '
race music
' market. His biggest early success came in 1928, when Vocalion released 'Tight Like That' by The Hokum Boys, the performing name of
Tampa Red
and
'Georgia Tom' Dorsey
, who Lester had introduced to the company. The huge national sales of that disc established Lester as the man to know if you wanted to get your song recorded in Chicago. When 'Georgia Tom' turned to religion, Red teamed up with
Big Bill Broonzy
, who Lester had recruited in 1931, and the two men ran a kind of 'clearing house' from Red's apartment for young Blues players from the
Delta
looking for gigs and playing partners. Lester's close friendship with Red and Big Bill allowed him to skim the cream of the crop and many superb musicians who had recently arrived in Chicago found themselves in the studio with Lester as their producer.
The Depression years of the early 30s were a slow time for selling anything, but by the middle of the decade, record sales were picking up and Lester came into his own. He developed the idea of a house-band with expert players in each rôle, and a basic line-up of drums, bass, piano, guitar and either harp or sax. This gave the records a 'samey' sound, but the results were consistently good, and the featured artist could concentrate on strutting their stuff. Chess, Stax and Motown were notable labels who copied this model. Lester had a good ear for Blues music, and John Lee 'Sonny Boy' Williamson, Memphis Minnie,  Jazz Gillum, Lil Green, Big Maceo, Washboard Sam, Bukka White, 'Big Boy' Crudup, 'Champion Jack' Dupree and dozens of others got their start in Chicago with Lester although, in a rare moment of error, he turned away Muddy Waters!
The years after WWII were not so productive for Lester, as a new, hard-edged electric Blues took over from his sweeter 'ensemble' band sound. It was the accepted custom at that time for the producer to claim some or all of the publishing rights for the records they worked on, and Lester took this to extremes with thousands of tunes to his credit. When this body of work was plundered by big-selling white artists in the following years, like Elvis covering 'Big Boy' Crudup's songs, Lester made a fortune and the musicians made very little. He had retired by then, relocating to Florida in the early 50s, and he passed away at his home in 1968.