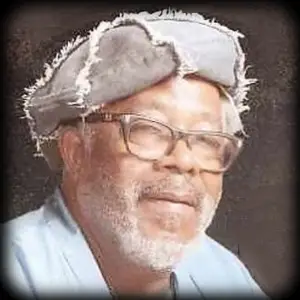 Hammie Nixon was the long-time harp playing companion of Sleepy John Estes, whose thoughtful, delicate, country flavoured harp lines spoke of years long gone by, even as he recorded in the 80s.
Hammie Nickerson was born in Brownsville TN in 1908 and orphaned as a young child. Noah Lewis, who went on to play with Gus Cannon's Jug Stompers in Memphis, was a local boy and when young Hammie heard him play, he set out to emulate him.
Some time in the mid-20s, Hammie teamed up with mandolin player Yank Rachell and guitarist Sleepy John Estes. With Hammie blowing a jug as well as a harp, the trio performed as a jug band in Memphis and traveled round the
Delta
juke joints. In the 30s they went to
Chicago
to record, and Hammie picked up some session work there especially on the records of 'Son' Bonds. All three men relocated to Chicago as the record industry picked up and recording opportunities increased as the decade went on.
Hammie and Sleepy John play some old-school Blues;

In the 40s, country Blues was falling from fashion as electric bands took over, and all three friends ended up playing for tips on Memphis street-corners again. In 1962, the Blues revival saw Sleepy John cut an album for Delmark, and Hammie went along to play his part, also appearing at the Newport Folk Festival in 1964. They took the show on the road, visiting Europe several times and touring Japan, until Sleepy John passed away in 1977. Hammie continued as a member of The Beale Street Jug Band, and in 1982 he cut a solo album for the High Water label, Dr. David Evans' music project for the University of Memphis. Hammie passed away in 1984.