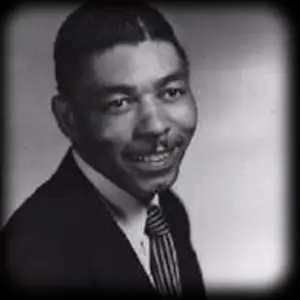 'Stick' McGhee is not so well known as his brother Brownie, but he wrote some great boozy Blues songs, and one of them, 'Drinkin' Wine Spo-Dee-O-Dee', has become a classic, covered many times down the years, including versions by Jerry Lee Lewis, Wynonie Harris, Larry Dale and Mike Bloomfield's Electric Flag.
Granville McGhee was born in Knoxville TN in 1917, the son of the leader of The Golden Voices Gospel Quartet. His older brother Walter contracted polio, and couldn't walk, so the kid brother got the job of pushing him round in a cart, using a pole to propel it, hence earning the nickname 'Stick'.
Walter left home when his condition improved enough to let him walk, and travelled to the Carolinas and eventually New York City where he found fame as
Brownie McGhee
. Stick got drafted into WWII and he wound up in New York too, when he was discharged. Stick was a pretty accomplished guitarist himself, and played on his brother's recordings and also with harp player
Sonny Terry
, who would go on to worldwide fame in partnership with Brownie.
Stick's original version of 'Drinkin' Wine Spo-Dee-O-Dee';
In 1947, Stick signed for 'Ink' Williams' Harlem label, where he cut 'Drinkin' Wine Spo-Dee-O-Dee', a drinking song he had made up in the Army, but the lyrics had to be radically 'cleaned up' on the record. It didn't sell too well, but at that point the industry was in turmoil as a result of the 'Petrillo Ban' limiting the supply of records. Ahmet Ertegun had just set up Atlantic Records, and in 1949 he heard from an independent distributor in New Orleans that he needed a few thousand copies of 'Drinkin' Wine….'. Ahmet quickly signed Stick to his new label and cut an up-tempo version of the song, with Brownie adding some guitar.
This great record got a lot of airplay and peaked at No.3 in the Billboard R&B charts, providing Atlantic with their first major hit and a big stash of cash to get the label going. Stick had another hit record on Atlantic with 'Tennessee Waltz Blues', before moving on to a long series of labels in the 50s where he cut many more booze-centred Blues numbers without overly bothering the charts. Stick was diagnosed with lung cancer in 1960, and passed away the following year. However his immortality is guaranteed, because as well as the big stars mentioned at the head of this piece, 'Drinkin' Wine' has been recorded by
Chuck Berry
,
Fats Domino
,
Little Richard
,
Lightnin' Hopkins
,
Nappy Brown
,
'Champion Jack' Dupree
, Johnny Cash, Carl Perkins, Johnny Burnette, Charlie Daniels, Lionel Hampton,
Johnny Otis
, Ronnie Hawkins, literally dozens of bands including Crazy Cavan and Alcoholics Unanimous, Kid Rock,
Ronnie Wood
, and even his own brother Brownie!