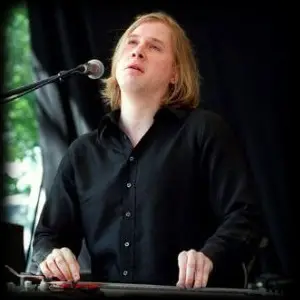 Jeff Healey played strong Blues Rock on a guitar he laid across his lap, allowing him to use his thumb and fingers to make huge bends in the shimmering notes that rang through his unique music. With a 'blue-eyed soul' voice and a deep Blues sensibility that shone brightly in his compositions, Jeff was a big part of the 80s Blues-rock explosion. He attained worldwide fame with some huge hit records and played constantly at his club in Toronto when he was not on tour, often headlining Festivals.
Norman Jeffrey Healey was born in Toronto, Canada in 1966, and before he was a year old, lost both his eyes to retinoblastoma, a rare form of cancer, and was fitted with prosthetic eyes. His Dad gave him a guitar as a kid and when he was 13, Jeff formed his first band Blue Direction. While he was still a teenager, Jeff joined
Stevie Ray Vaughan
and
Albert Collins
on stage in Toronto, and soon the three-piece Jeff Healey Band had a record deal. Their single, 'See the Light' sold well and got a lot of radio play, leading to the album of the same title in 1988, which established the young man as a serious Blues Rocker. The album sold over a million units, and contained another big hit single 'Angel Eyes', which gave Jeff's band a huge profile and led to world touring, TV appearances and video shoots, and an acting role in the Patrick Swayze film 'Roadhouse', with the boys playing as the house-band. All this meant Jeff did not get back to the studio for quite a while.
'See the Light' with guest Dr. John. Stunning ending;
In 1990, Jeff's follow-up album 'Hell to Pay' had a version of 'While My Guitar Gently Weeps' with George Harrison as guest guitarist and cameos from Jeff Lynne and Mark Knopfler. Again this sold well, and on Jeff's third album for Arista, he beefed up the production to sound like a Texas Roadhouse band, delighting Blues Rock fans all over the world. For instance, Jeff had 10 charting singles in Canada between 1990-95. In 1995, the 'Cover to Cover' album featured Jeff's versions of some well-known tunes and secured his place as an FM radio favourite. Jeff had hosted his own radio show in the early days back in Toronto, playing his fantastic collection of old Blues 78s, and he continued this gig, whenever he could, for many years. He also opened his own club 'Healey's' in Toronto, where he played twice weekly when he wasn't on tour.
Jeff plays 'Roadhouse Blues' for his German fans;
Jeff began to explore his interest in Jazz with his 2000 album 'Get Me Some', and over the next few years he released solo Jazz albums on is own Healeyophone label, with his Blues output appearing on the Canadian imprint Stony Plain, but sadly the last couple of albums were posthumous. 'Mess of Blues' was partly recorded on tour in London, and showed Jeff could rock with the best of them. In March 2008, Jeff passed away in Toronto from cancer aged just 41, a few days before that album was released. A big benefit concert was held in the summer of 2008 to benefit Daisy's Eye Cancer Fund, which has made great progress in researching retinoblastoma, a genetically inherited disease which affects both Jeff's widow Cristie and their son.