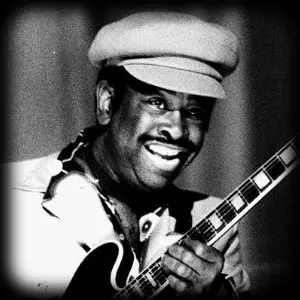 Mighty Joe Young was never a big star of the Blues himself, but for more than 30 years he played with the some of the most revered names in Chicago. His big, soulful voice and delicate guitar work got him a healthy solo recording career and a lot of session work with bigger stars, but his true legacy is in the memories of the legions of fans that saw him play his Blues at thousands of gigs in Chicago clubs.
Joseph Young was born in Shreveport LA in 1927, and emerged on the club scene in Milwaukee in the early 50s. A promising boxer who was based in Los Angeles for a while, Joe moved North to pursue his dream as a guitarist, but he cut his first single for the Jiffy label on a trip back to Louisiana in 1955. Attracted to the 'West-side' sound coming out of Chicago at the hands of
Freddie King,
Buddy Guy
and
Otis Rush
, Joe moved to the Windy City in 1956, playing with Joe Little and The Heartbreakers and sitting in with
Howlin' Wolf
and
Billy Boy Arnold
. When
Jimmy Rogers
left
Muddy Waters
to set up his own band, Joe joined as second guitar, recording for the
Chess
label. Joe re-ignited his solo career with the Fire label in 1961, with the swinging 'Why Baby?', which revealed his big Gospel voice and a sure touch with a guitar solo that led to a string of good-selling singles.
'Why Baby?', from Mighty Joe's debut album;

Magic Sam used Joe on his great 'Black Magic' album and Sam and Billy Boy Arnold recorded many sessions with Joe in the 60s. Bob Koester's Delmark label released Mighty Joe's first solo album 'Blues with a Touch of Soul' in 1971, which had Johnny 'Big Moose' Walker on keyboards. A long residency at The Wise Fools club on Chicago's North-side in the 70s and 80s cemented Mighty Joe's reputation, as evidenced by an excellent live album cut at the club, and further albums on the Ovation label showed a Soul/Blues performer at the top of his game. Apart from the occasional tour, Mighty Joe performed mainly in Chicago, where he recorded with Jimmy Dawkins, Albert King and Fenton Robinson, and his band often backed Koko Taylor on stage.
In 1986, Mighty Joe started a self-financed project to produce an album where he had total control, but sadly he also began to have health problems. Surgery to relieve a trapped nerve in his neck left his fingers paralysed, and he was unable to play guitar. The album slowly came together with help from family, friends and Blind Pig records, and was released as 'Mighty Man' in 1997. It showed Mighty Joe had lost none of his vocal passion, and featured Billy Branch on harp, guitarist Will Crosby and Joe Jr. on rhythm guitar. It was to be Mighty Joe's swan-song, as he passed away two years later from surgical complications following a procedure Joe had hoped would restore feeling to his hand.