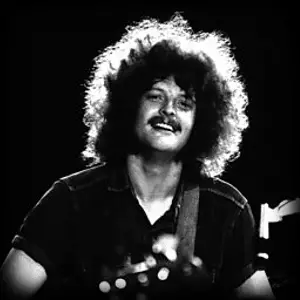 Mick Abrahams is a British Blues-Rock guitarist who was a founding member of stadium band Jethro Tull, in their first incarnation on the late 60s club scene. His desire to follow a path towards progressive Blues led to a split with Ian Anderson, the formation of Mick's band Blodwyn Pig, and a lifetime of touring and recording.
Michael Timothy Abrahams was born in Bedfordshire, England in 1943, and as a teenager he heard Alexis Korner and Cyril Davies playing with Blues Incorporated and knew he wanted to be a guitarist.
He joined a local band The Crusaders in 1964, and the following year he and drummer Clive Bunker moved on to The Toggery Five and recorded their first single. In a new band, McGregory's Engine, they were joined by Ian Anderson and Glenn Cornick, and a shared interest in Blues music led to the formation of Jethro Tull in 1967. They got a residency at The Marquee in London and their first album 'This Was' featured some hard rocking Blues guitar behind Ian's flamboyant flute. As the band pounded the Motorways of Britain in an old van to promote the album, tensions grew about the band's direction. Island Records had distributed Tull's album for the Chrysalis label, and recognising Mick's potential as a guitarist, they were quick to recruit his new band Blodwyn Pig.
'Cat Squirrel' from Jethro Tull's first album 'This Was';
With Mick's explosive guitar over the improvising bass and drums of Andy Pyle and Ron Berg, and Jack Lancaster's vocals and soaring sax. 'Ahead Rings Out' is the blueprint for a lot of progressive Blues bands that followed: it was a Top Ten album in Britain and charted in The States. A second album, 'Getting to This', sold equally well, with a more free-form feel, but again Mick left after arguments about future material. The Mick Abrahams Band gave him full control, and he wrote all the material on his self-titled album, with acoustic slide-guitar tracks like 'Wind of Change. A second album 'At Last' had Jack Lancaster back on horns, but was a bit of a mish-mash, then a re-formed Blodwyn Pig hit the road in 1974, but it was a doomed enterprise. Mick then recorded the album that was to go on to be his all-time best-selling work, 'Learning to Play Guitar', an excellent instructional album. Around this time, Mick lost his enthusiasm for the music business, and he dropped out for thirteen years.
Suberb slide and picking on 'Billy the Kid';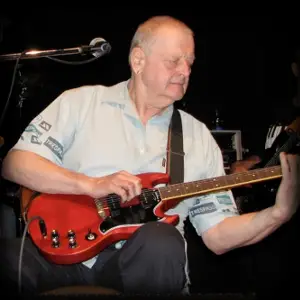 In 1988, Blodwyn Pig re-emerged with Dick Heckstall-Smith, and alumnus of Alexis Korner's Ealing Blues Club, on sax. The line-up changed occasionally, but Pig kept on touring the clubs and Festivals for the next 20 years. Their 1993 album 'Lies' and a live set 'All Tore Down' reminded the fans that Mick could rip out a terrific riff, and he went on to issue a dozen solo albums as well as four more with Blodwyn Pig. Mick suffered serious health problems in 2009, including some hearing issues, but he is playing again, has set up his own studio and is collaborating with many old friends on new projects. As Mick is rediscovered by new generations, many of his earlier works are being re-issued as compilations or twin albums.